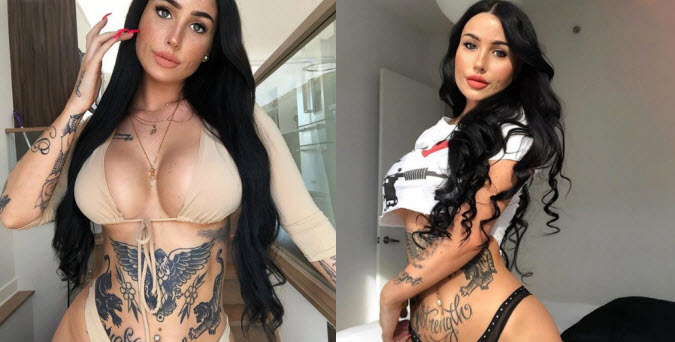 Tattoo Lovers Model of the Day is on FIRE! Montreal's finest, Noemi Bazinet. 🔥
Tattoo Model & Entrepreneur Noemi Bazinet popped up in our Tattoo Lovers Instagram newsfeed with and we had no choice, but to start following her!
Tattoo Model Noemi Bazinet is rockin' our New "I LOVE TATTOOS" Women's White Tattoo Shirt, you can order yours now shop here, we ship worldwide.
Show everyone you are part of the Tattoo Lovers Community with our classic T-Shirt! Available in both Men's and Women's Styles. Also Available In Black, Shop HERE.
We've put together a few of our Favorite Photos of Tattoo Model Noemi Bazinet, make sure you give her a Follow on Instagram.
There's nothing we love seeing more than women with traditional blackwork tattoos. Take a closer look at Noemi's solid belly eagle piece, below.
The word strength adds a nice touch. 🦅✊
Model Noemi Bazinet & Tattoo Lovers Community ALWAYS Support The Troops 100%! #GOARMY
Here's another great piece of content featuring Model of the Day, Noemi Bazinet.
Make sure you FOLLOW Tattoo Lovers on INSTAGRAM! Click the post below, and comment how many tattoos you have! Let us guess, TOO MANY TO COUNT?!
If you've been a Fan of Tattoo Lovers for more than 30 seconds, you'd know we love Tattoos & Brunettes!
Contrary to popular belief, ALL Girls just want to have fun. Not just blondes. And according to recent study, brunettes actually have more fun than blondes do.
Tattoos are Officially a Girl's Best Friend, they're longer the novelty they used to be. A Recent major university study claim that the number of tattooed females has already surpassed that of tattooed males in the Universe. More 1/2 half of all women on Earth now have a tattoo, and plan on getting another one.
Not sure what you're attracted to but hopefully this is it.
Beautiful, Tattooed & Brains, what more could you ask for?!

Would you like to submit an entry and be our FEATURED Tattoo Model of the Day? Submit your photo on our Tattoo Lovers Facebook and Instagram.
Comments
comments