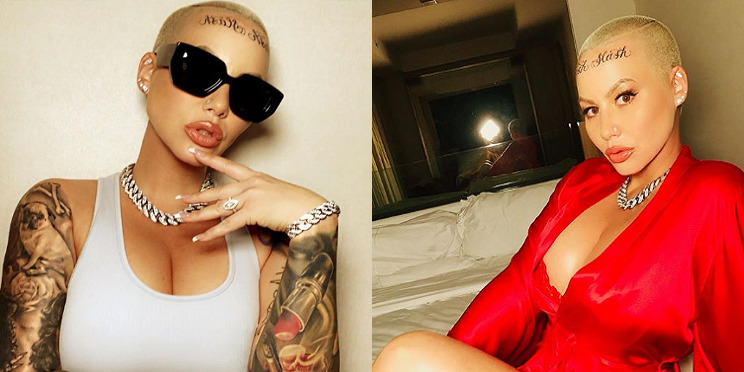 Amber Rose Forehead Tattoo
Some of you may have seen that Amber Rose recently got her children's names, Slash and Bash, tattooed on her forehead. She said the death of Kobe Bryant inspired her. One of those children is 6 years old and was fathered by Wiz Khalifa. The other is 4 months old and is with her new boyfriend Alexander "A.E." Edwards. What few realized was that Alexander has gotten a forehead tattoo honoring the two children 5 weeks ago by Jacob Ramirez (@el_jacob_ramirez). Ramirez also did Amber's new work. This makes the Kobe tribute a little suspect. Instead of putting the children's name A.E. decided to ink their birthday's on him. While we think it's sweet to get tattoos honoring your children, we aren't sure how we feel about getting tattoos honoring your girlfriend of less than 2 years kids. Especially when that someone is Amber Rose, who is not known for her long term relationships. Her longest relationship was to Wiz and that only last 3 and a half years.
Here you can check out Amber's Bash and Slash forehead tattoo. She captioned it, "When ur Mom lets you draw on ur Barbie", which is pretty funny.

Plenty of people called out Amber for her latest choice of tattoos. People wondered why such a pretty woman would do such a thing. She responded to her critics on Instagram basically telling them she can do what she want. Hard to argue with that.

Here is Alexander's forehead tattoo.

Speaking of Wiz it would be interesting to know how he feels that another man has a tattoo honoring his kid. It's not like Wiz isn't a good father and not in Bash's life. Hopefully he at least asked first. Seems like one of those things you should ask another man before getting it done.
What do you think of the latest celbrity face tattoo trend? Post Malone keeps adding new face tattoos every month it seems. Would you ever get one?
Comments
comments