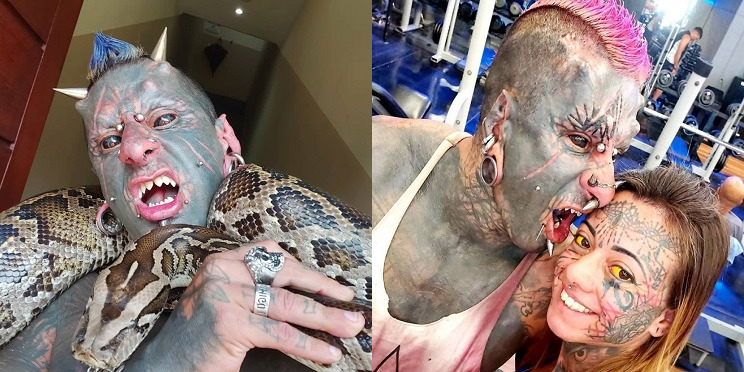 Human Satan Tattoo Artist
Michel Faro do Prado is a tattoo artist from San Paulo, Brazil. He has spent many years getting tattoos and body modifications to make himself look more sinister. He has got his teeth shaved down, got his tongue split, tons of piercings and off course dozens of tattoos. These modifications have led to his nickname "Human Satan". There is a catch though. He insists he is not trying to look like the Devil. Michel is actually a God loving, church going man that likes to do good in the world. This of course is very different than the devil like perception he puts off. Michel said: "I believe that the true image of the 'devil' is beautiful, the Bible says this in Genesis and also the same way in the book of Isaiah, which says that says that Jesus was ugly that he looked like a dry root in the desert." As they say beauty is in the eyes of the beholder.
Don't Judge A Man By His Tattoos
If you are wondering what his family thinks of his look, well they love it. "My family love it, which consists of my wife and my son and some people in my life have also become my family." Michel says. It probably helps that his wife is very tattooed herself and does body modifications. She was very instrumental in him creating his look. He really doesn't care what others think, "However, it doesn't really matter to me what people say! I only demand respect! I do not reject conventional society; I reject its hypocrisy and disrespect for those who are different. Each person is what they choose to be – I am what I am and they are what they are." Amen to that Michel!

(all images courtesy of Jam Press)
If you want to check out more about Michel check out this vid.

Want to see more heavily tattooed people. Check out this blacked out tattoo modelblacked out tattoo modelblacked out tattoo model who has covered most of her body. Stay on top of the latest tattoo news make by following us on FaceBook @TattooLoversShop and IG @TattooLoversShop
Comments
comments