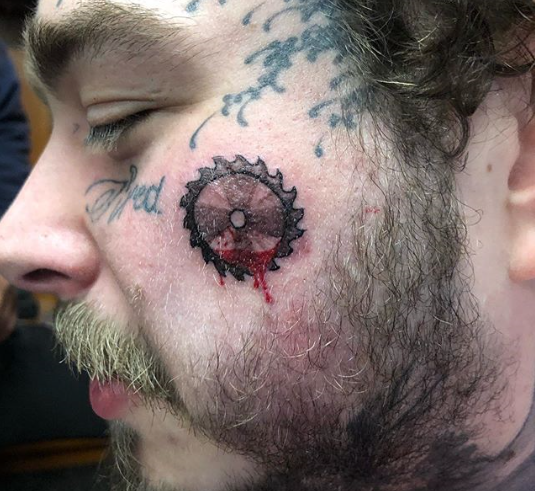 As you know Post Maolone is no stranger to face tattoos. He closed out 2019 with a gauntlet and flail face tattoo. He is right back at it adding two new ones to his collection. Since Post is out on tour there are a couple lucky artists getting to do his work that normally don't. Can you imagine if Post Malone just walked into your shop and wanted some work. It has to be one of the best feelings in the world to be able to tattoo one of the most famous people in the world in such a highly visible spot and know that millions of people will see it.
The first new piece was post by Zachary Lowhorn (@zwlowhorn) an artist in New Castle, Indiana. The tattoo is a small bloody hammer on Post's right cheek.
The second piece of new work was posted on Instagram by @rubentattooartist. It is a bloody buzzsaw on Post's right cheek. The two tattoos clearly have the bloody part in common.
That wasn't the only work Post got done this week. He got a matching tattoo with rapper Tyla Yaweh who is out on tour with him. The matching "BFF" tattoos as Yaweh posted say Posty Co.
What do you think of his new work? Do you think Posty will eventually have his entire face covered in ink. It sure is looking that way. Will you be getting a big face tattoo in 2020?
Comments
comments