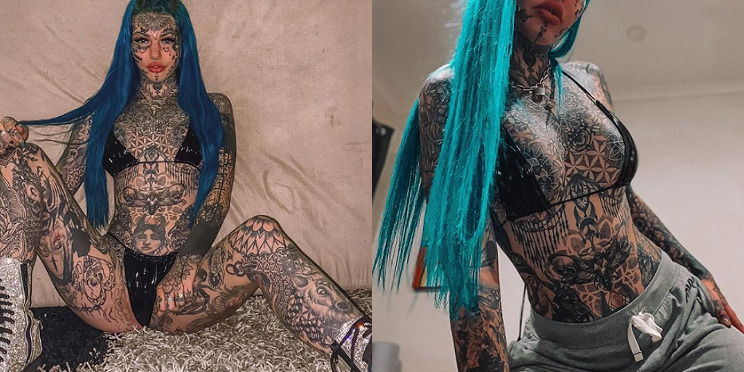 Tattoo Model Amber Luke
Amber Luke (@ambs_luke) is a tattoo model from Australia that is known for her full body tattoos including multiple on her face. To give you an idea of her outlook on life, her IG profile states " I'm a psycho, check my bloodline". She has over 200 tattoos and has a goal of having her entire body tattooed by the end of 2020. She also her her tongue split and her earlobes stretched.
Tattooed Eyeballs Left Her Blind
Amber is known as Blue Eyes White Dragon but that wasn't always the case. Late last year she decided to do her most extreme body modification yet, get tattoo her eyeballs aqua blue. That decision left her blind for 3 weeks. Getting your eyeballs tattooed is considered dangerous and painful as you would imagine. She told The Sun in an interview, ""I can't even begin to describe to you what the feeling was like, the best thing I can give you is once the eyeball was penetrated with the ink, it felt like [the tattoo artist] grabbed 10 shards of glass and rubbed it in my eye." The reason she went blind is because the artist went too deep into her eyeball! While the procedure is dangerous, if it is done properly you shouldn't go blind. The scare did cause Amber to rethink dangerous body modifications, "I don't plan on getting any more body modifications that are extreme in that manner. So no more tongue splitting, no more eyeball tattooing." While she won't be getting any more work she says she doesn't regret getting her eyeballs tattooed.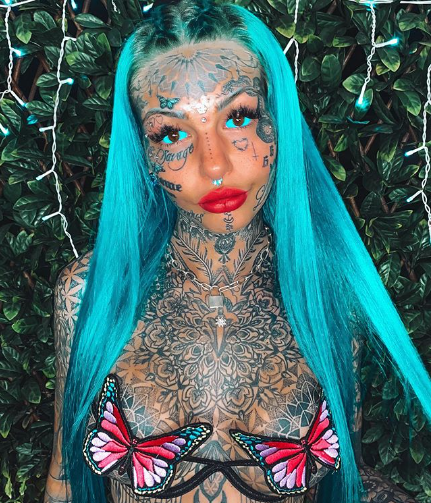 Mom Was Not Happy
Amber's mom Vicki was not very happy with her decision to get her eyeballs tattooed. "'Where do I start? I cried." I said a few choice words as anyone would. "Why would you do that to yourself, knowing that there is a danger to it?" Vicki was not as supportive of Amber's choice of tattoos in the beginning but has come around lately. "She never saw herself as being beautiful. She didn't see herself through my eyes. But I've supported her because I could actually see the transition, the growth and how it's made her come to who she is today." She ended with something all of us as people with tattoos and tattoo lovers know, "I think over time, I've learned to actually understand that it doesn't change you. It's the society's perception on it."
Want to check out more about Amber check out this feature BarcroftTV did on her.

Comments
comments