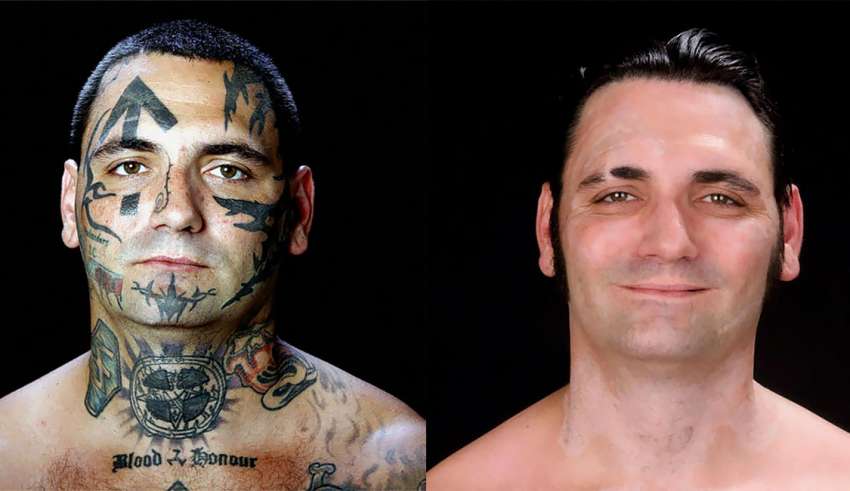 Ex-Skinhead Gets His Hateful and Racist Tattoos Removed After Becoming A Father.
Meet Bryon Widner, a skinhead, since his early teens, has spent over 15 years involved in White Supremacy.
Described as a "pit bull", Widner and his peers gained a reputation for excessive violence, a hardcore and racist.

Image credits: BP
Bryon co-founded a Vinlanders Social Club, a white power group in Indiana.
Vinlanders soon gained a reputation for excessive violence and racist discrimination, becoming one of the fastest-growing neo-nazi organizations in the United States. (wikipedia)

Image credits: BP
In 2005, Widner married Julie Larsen, who had three children from a previous marriage. In 2006, the couple had a son. The responsibilities of fatherhood gave Widner the desire to reform and leave the racist movement, a desire shared by Larsen. Widner left his organization and endured years of death threats and harassment while attempting to turn his life around.

Image credits: BP
Widner decided to leave the neo-nazi group, but it took years of death threats and harassment before he felt that he was finally becoming "human again."

Image credits: BP
Widner's efforts to rejoin wider society were significantly hampered by his extensive facial tattoos, many of which were violent or racist. Larsen feared that Widner would take drastic action to remove the tattoos, such as immersing his face in acid. Larsen eventually contacted anti-racist activist Daryle Lamont Jenkins of One People's Project who put her in contact with the Southern Poverty Law Center (SPLC).

Image credits: BP
After "several weeks of conversation," SPLC representatives agreed to help Widner in his quest to remove his facial tattoos. They found a plastic surgeon who was willing to perform the procedure, and an anonymous donor provided $35,000 for the procedures. The complete removal of Widner's facial tattoos took a little over a year and a half and over a dozen individual procedures, all of which were excruciatingly painful.

Image credits: BP

Image credits: BP

Image credits: BP
It often took days for the burns and oozing blisters to heal, before he was ready for the next round under the laser.

Image credits: BP
But Widner was determined to do the right thing by his new family, and he kept on going back for the agonizing laser tattoo removal procedures until only some scarring remained.
What do you think about Bryon's tattoo transformation?
Leave a comment below and tell us how you feel about this article?
Comments
comments