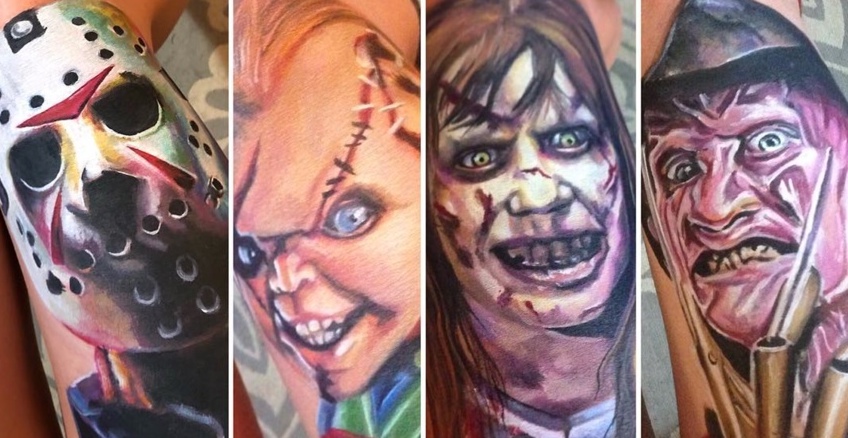 Horror Enthusiast & Artist Devon Munster has created awesome body paintings of a few of the best horror movie characters, just in time for Halloween! 😱👻🎃
With Halloween only single digits away, we saved some killer body paintings by Devon Munster!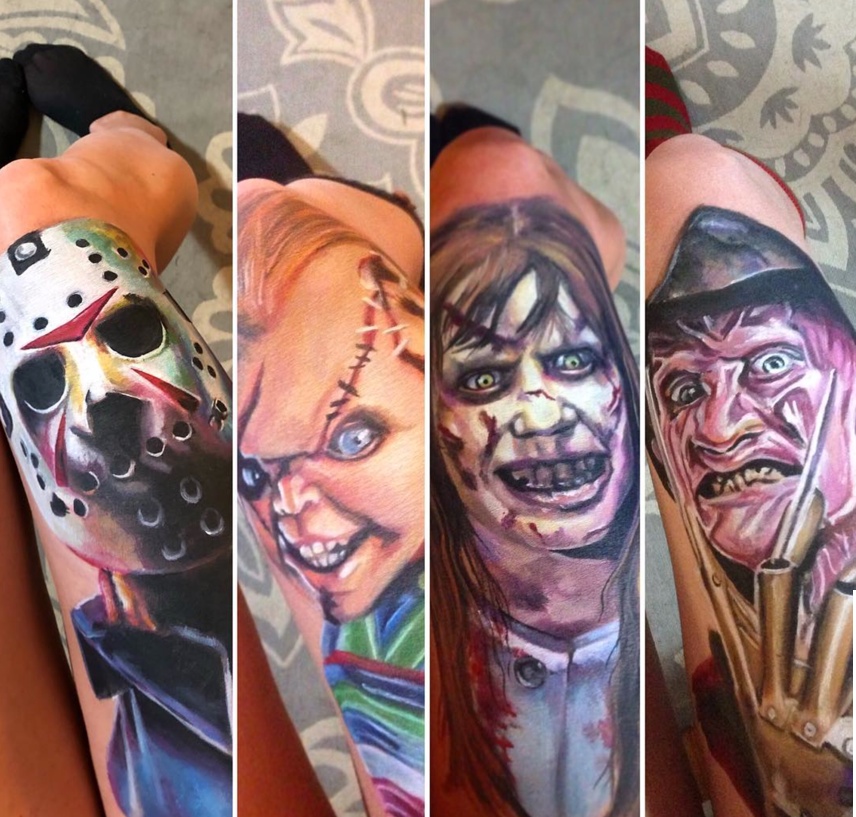 We've gotta start Devon Munster's Horror Movie Paintings Gallery, with IT's Pennywise The Clown, who terrorizes everyone!
Have you had a chance to see the new IT MOVIE? Do you think Devon nailed Pennywise The Clown, in this piece?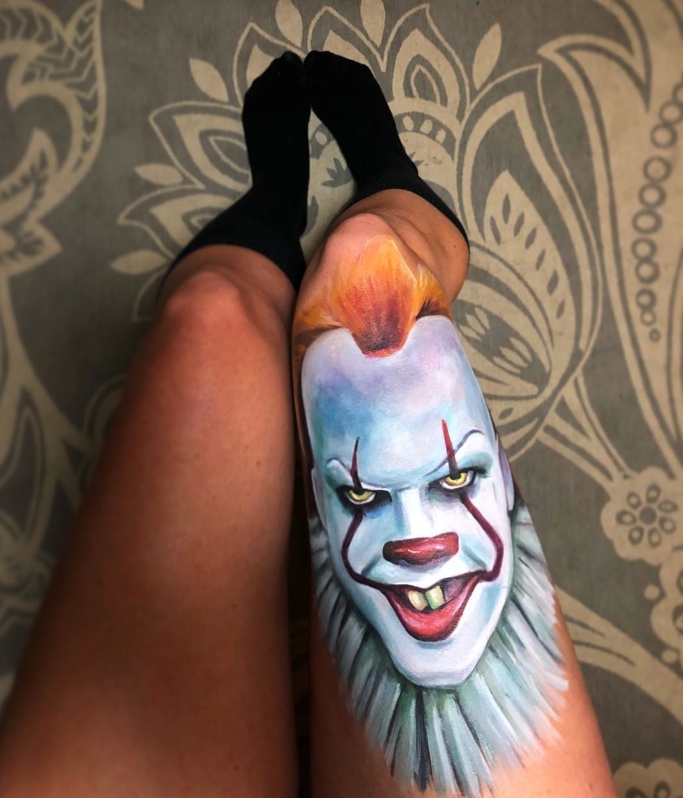 Jason Voorhees 🔪 from FRIDAY The 13th is Next Up! Horror Enthusiast & Artist Devon Munster nailed this piece!
Remember hearing, "Ki, k,i ki; ma, ma, ma" throughout the film? Did you know, it's meant to resemble Jason's voice saying "Kill, Kill, Kill; Mom, Mom, Mom."
Do you like Horror Movies? Check out Devon Munsters Instagram Page for more creepy, cool art!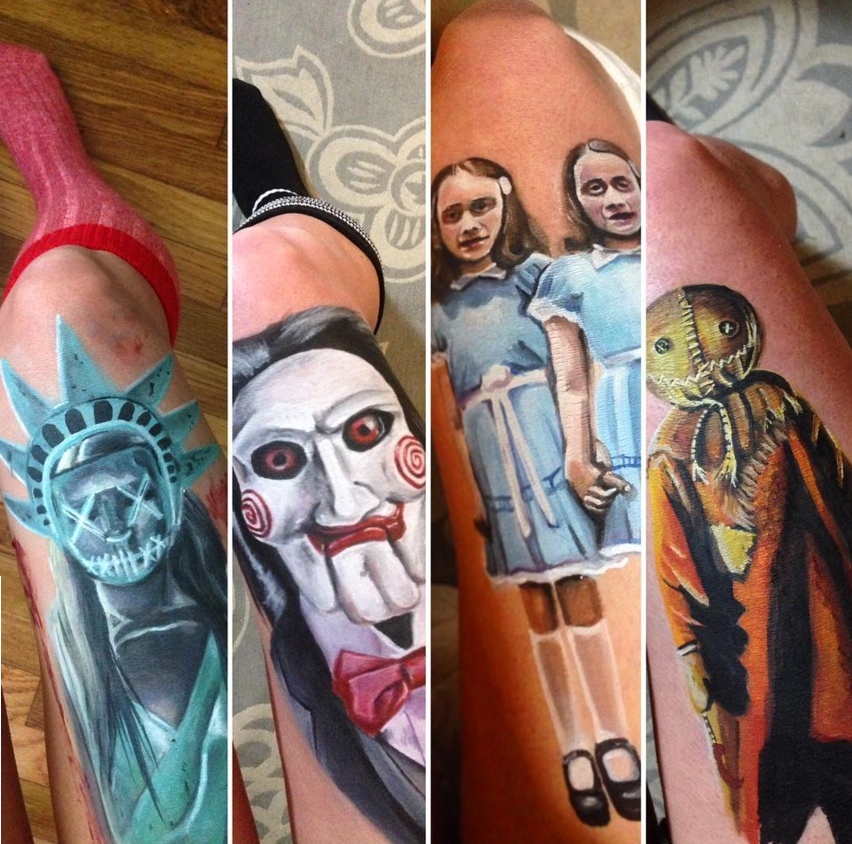 "I met him, fifteen years ago. I was told there was nothing left; no reason, no conscience, no understanding; and even the most rudimentary sense of life or death, of good or evil, right or wrong. I met this six-year-old child with this blank, pale, emotionless face, and the blackest eyes… the devil's eyes. I spent eight years trying to reach him, and then another seven trying to keep him locked up because I realized that what was living behind that boy's eyes was purely and simply… evil." – Dr. Loomis discusses Michael Myers' Evil, in, Halloween, 1978.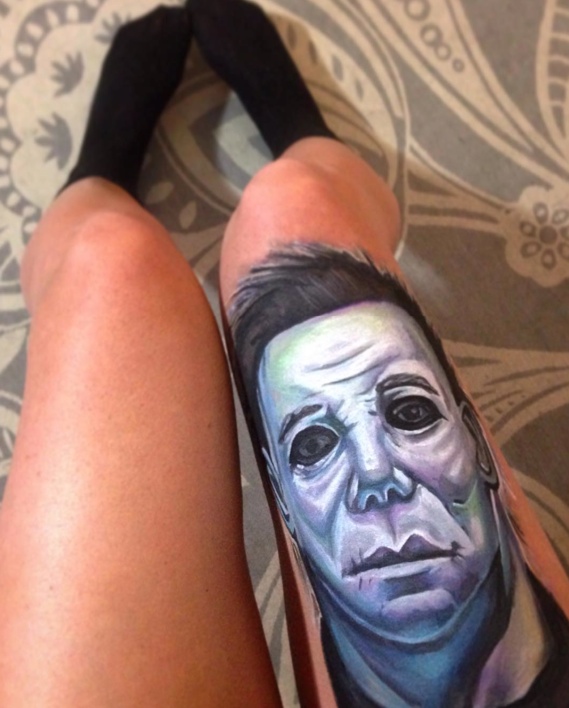 "Hi, I'm Chucky. Wanna plaaaaaaaaay?" Chucky, from Child's Play, is well known voodoo serial killer who transfers his soul into a "Good-Guy" Children's Doll in order to cheat death after being killed by Detective Mike Norris.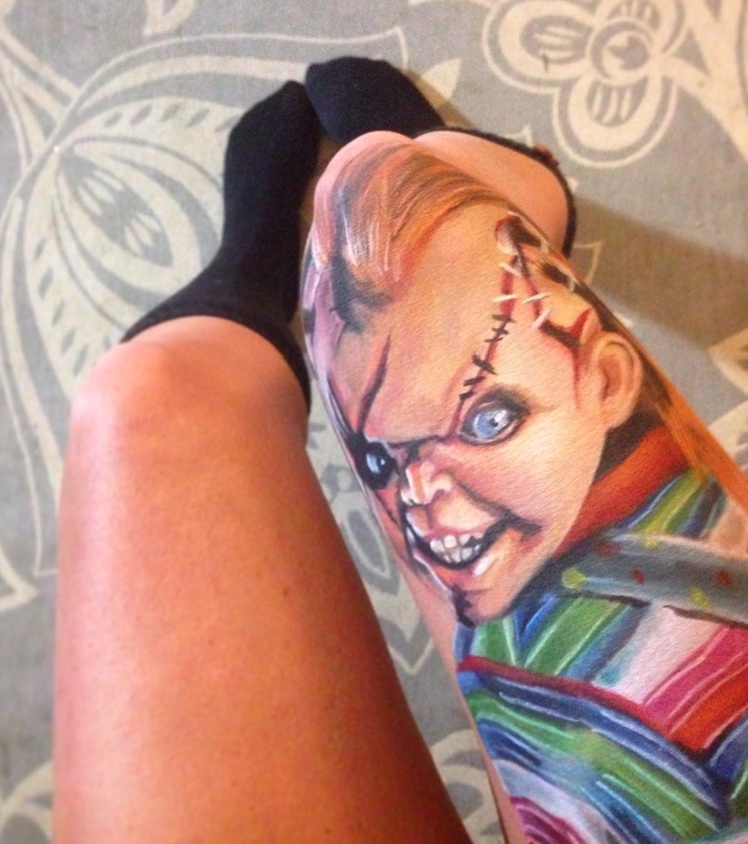 One 🔪 two 🔪 Freddy's coming for you…
Three, four, Better lock your door
Five, six, grab a crucifix.
Seven, eight, Gonna stay up late.
Nine, ten, Never sleep again….
Freddy Krueger, from "A Nightmare on Elm Street" movie is UP!
Freddy is a burnt serial killer who uses a glove armed with razors to kill his victims in their dreams, causing their deaths in the real world as well.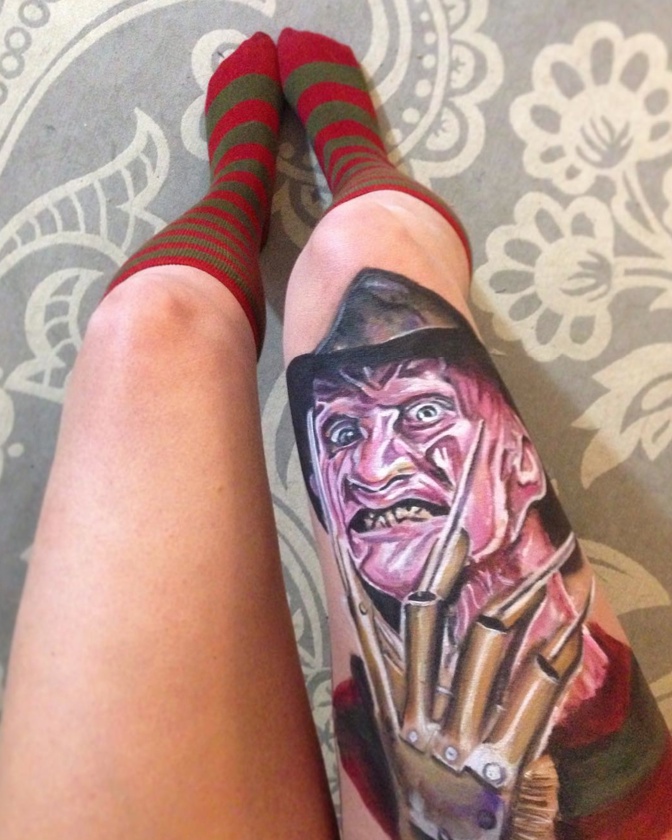 SAW is an absolutely amazing movie, and who can forget Jigsaw?! Devon Munster did an impressive job, especially the attention to shading and detail in this piece, such a creepy cool painting of Jigsaw!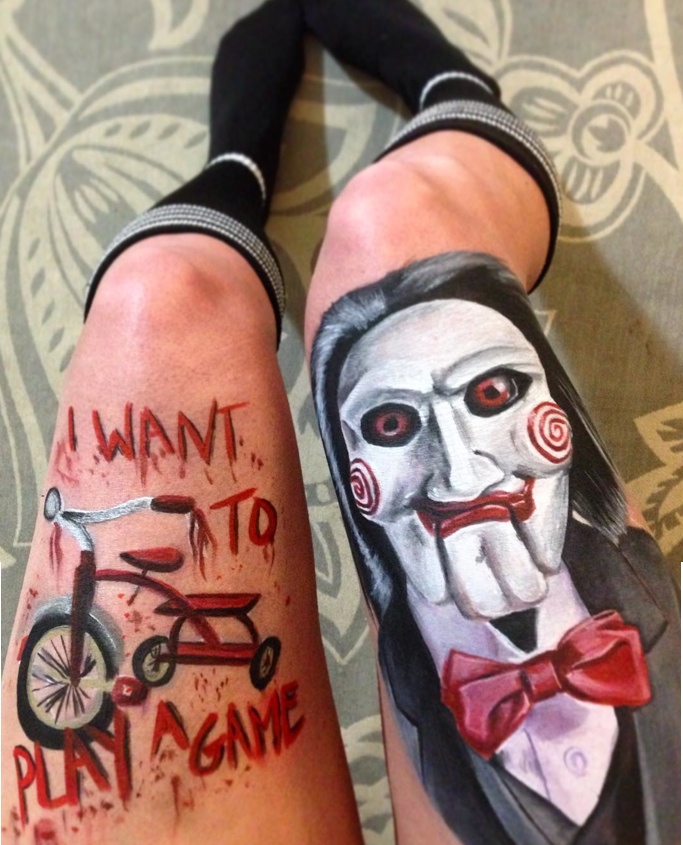 Leatherface, from The Texas Chainsaw Massacre, is one of the most well-known horror icons, since the movie released in 1974, as a matter of fact, they keep remaking it over and over, every year around Halloween, but nothing compares to the original!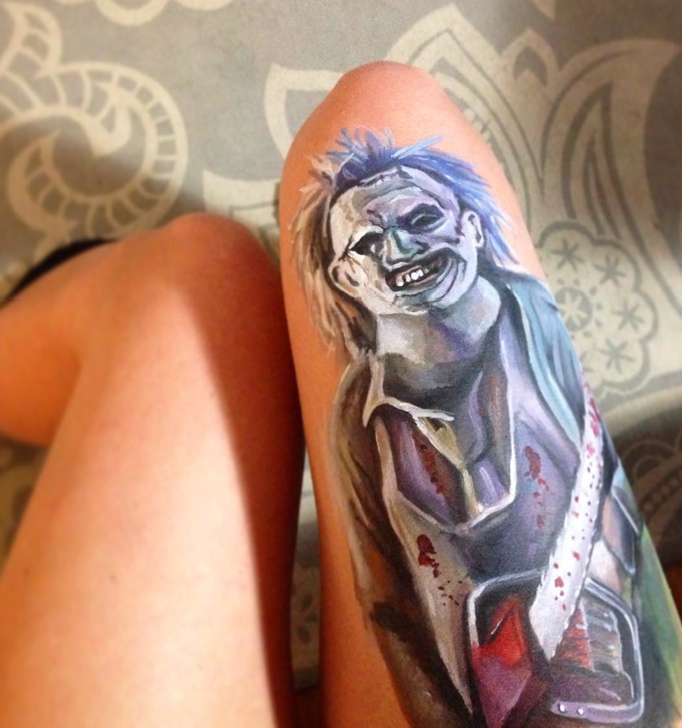 Have you ever watched The Leprechaun? It's creepy as hell, just look at the original movie poster from back in the day, when movie posters scared you the crap out of you!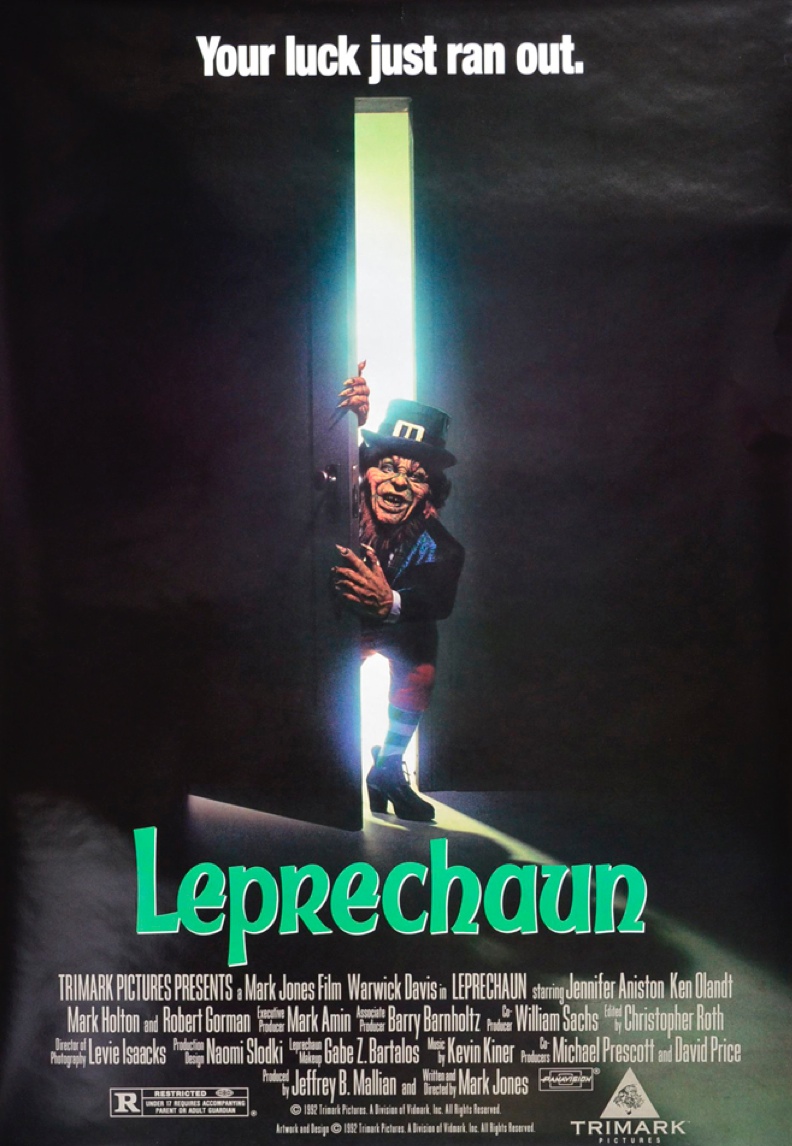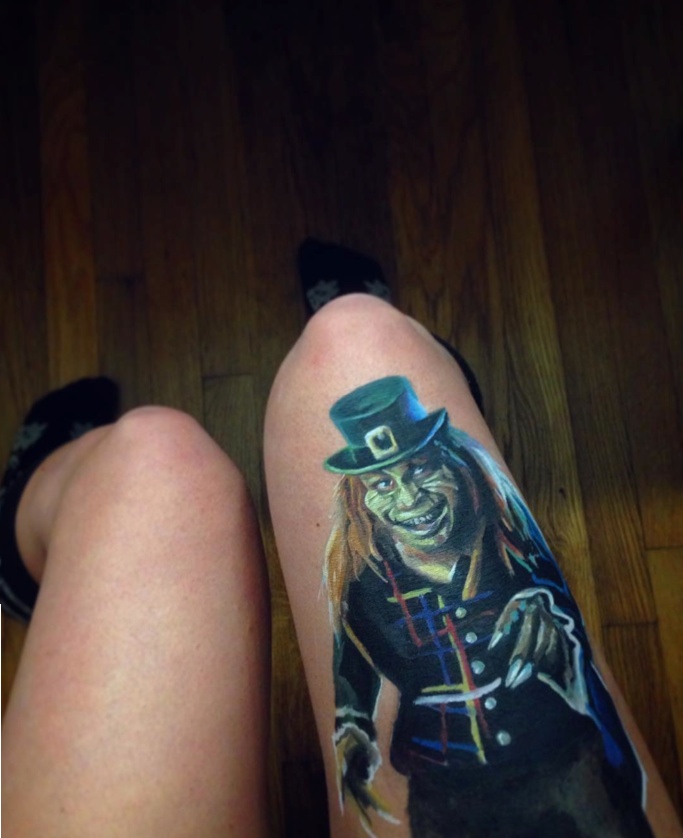 One of the most profitable horror movies ever made, when a young girl starts acting odd levitating, and speaking in tongues, her worried mother seeks medical help of two priests, who think the girl may be seized by the devil. The priest makes a request to perform an exorcism, and the church sends in an expert to help with the difficult job.
One of the most memorable scenes in horror movie history is THE FAMOUS PEA SPEWING SCENE, check it out.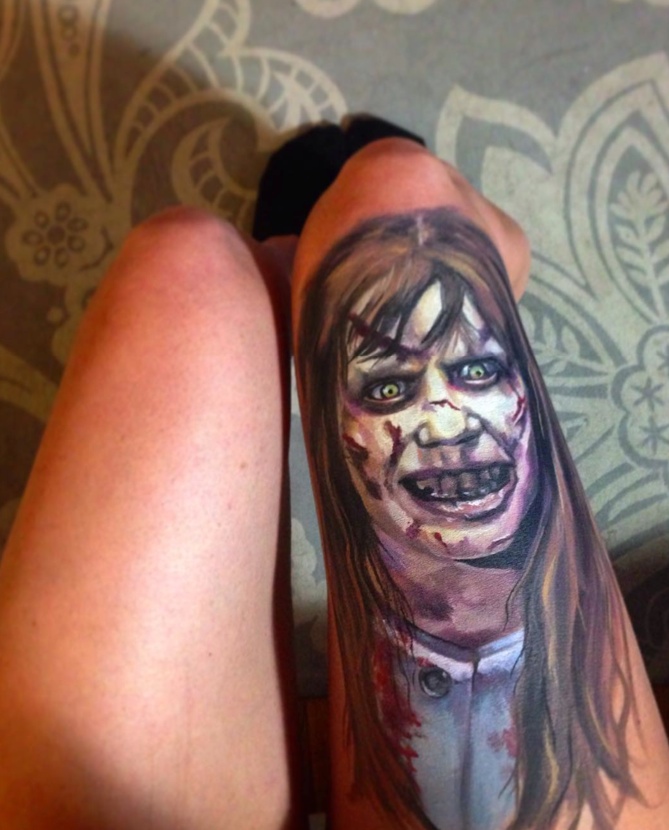 The Grady Twins from the halls of Overlook Hotel in the film, "The Shining", are the creepiest twins in Horror Movies!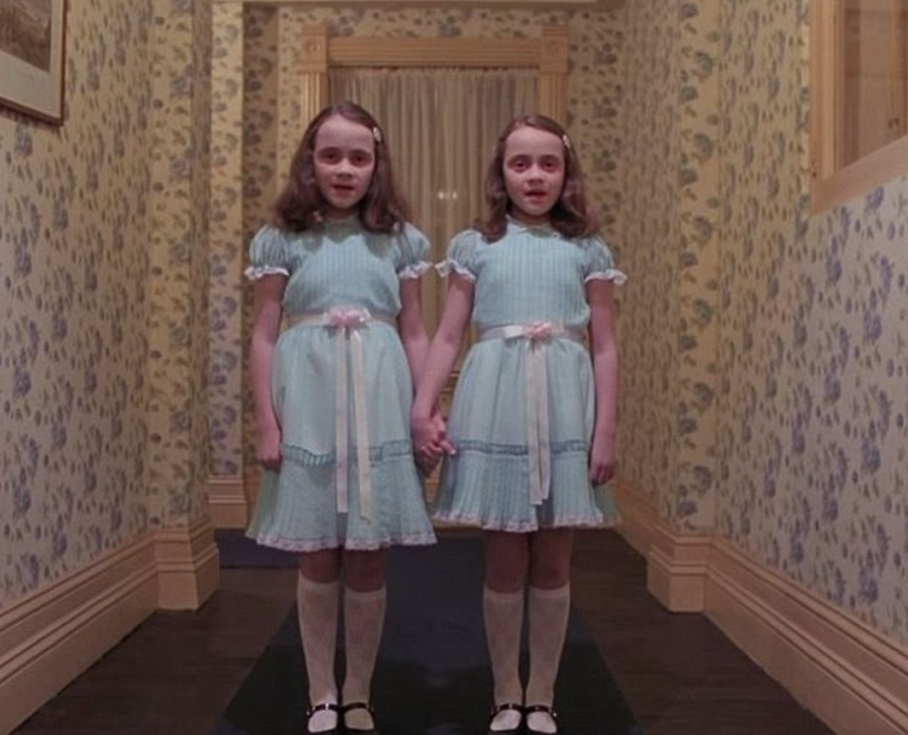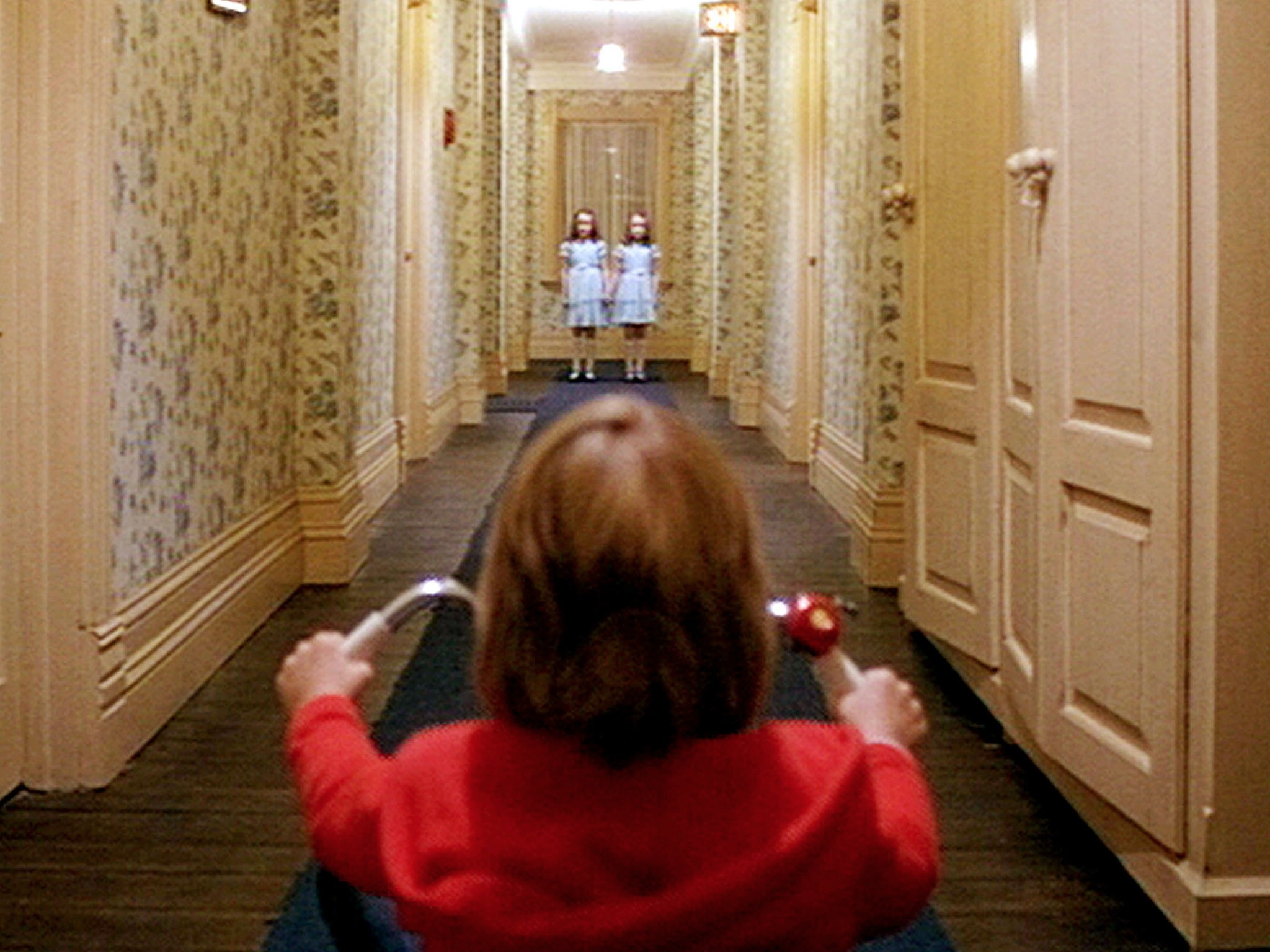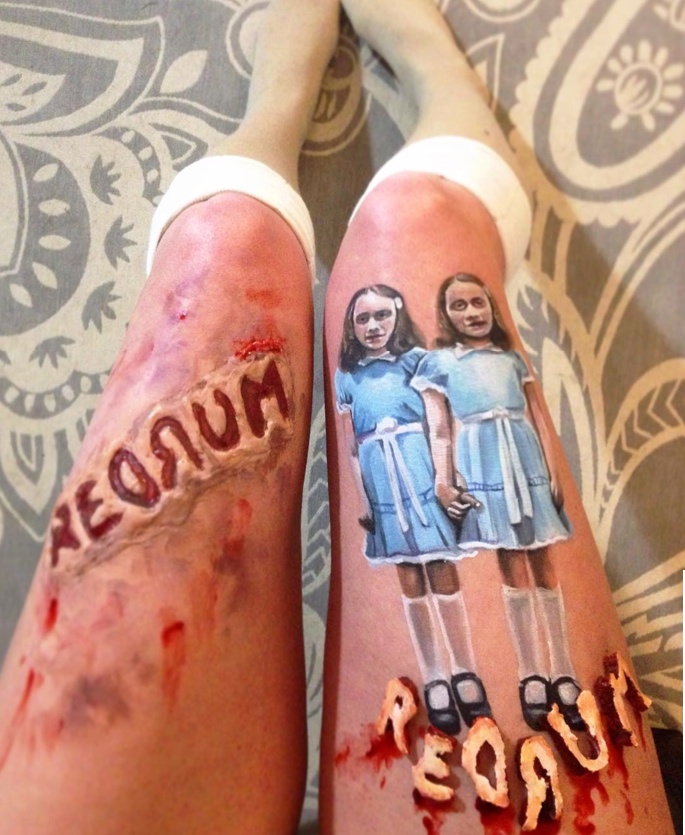 The Devil's Rejects came out in 2005, it's Rob Zombie's sequel to "House of 1000 Corpses", both films are centered around a psychopathic family, we featured two of their lunatics: Captain Spaulding & Otis Driftwood!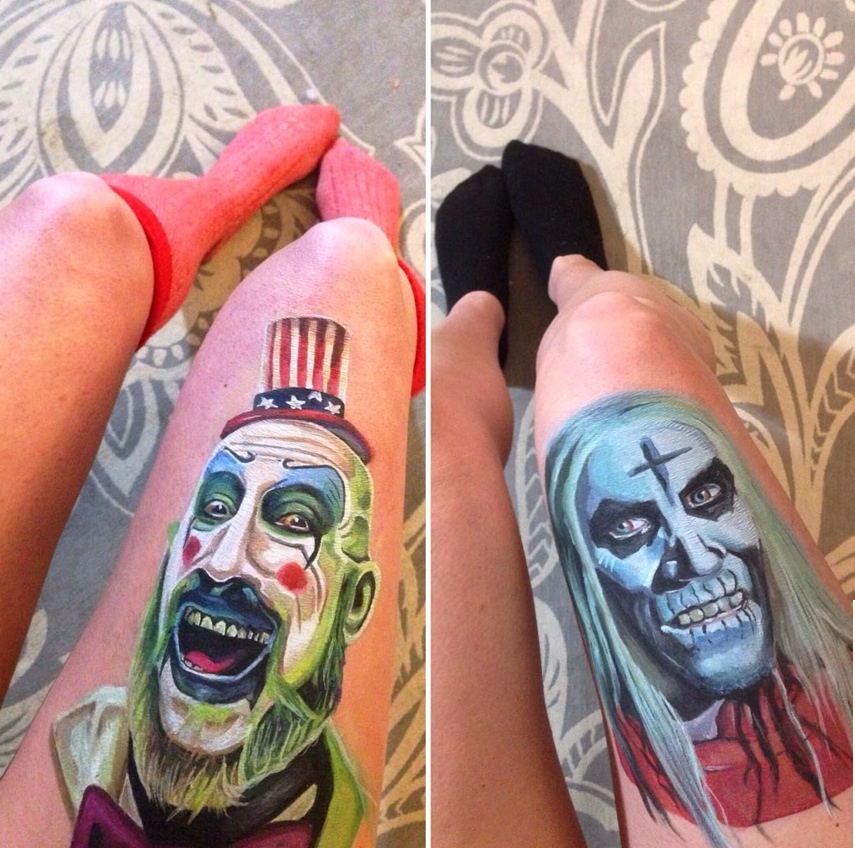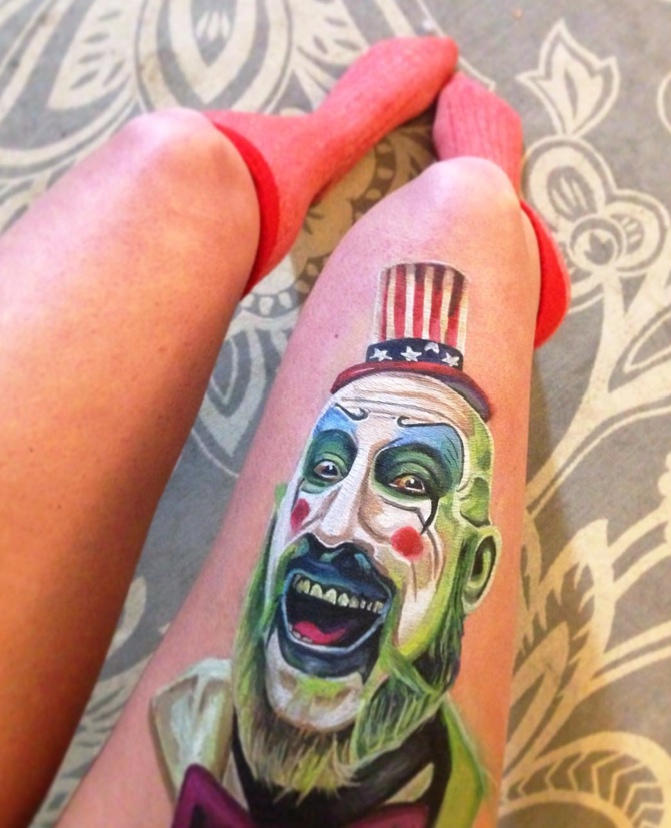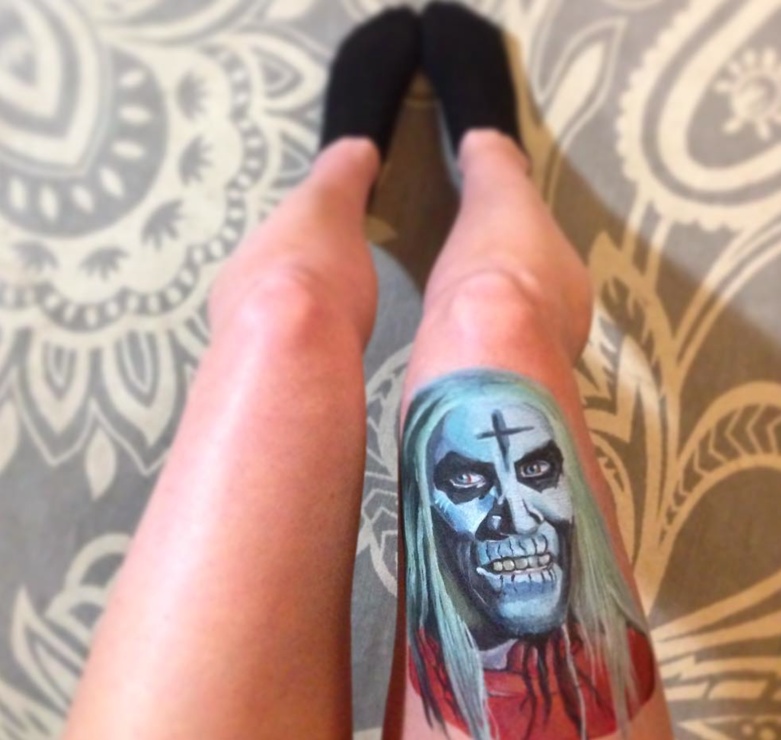 We finish up, with a spot on, Trick 'r Treat Horror Movie Painting, from 2007!
Trick 'r Treat is about four Halloween horror stories, which all include Sam, a creepy kid, trick-or-treater wearing shabby orange footie pajamas with a burlap sack over his head.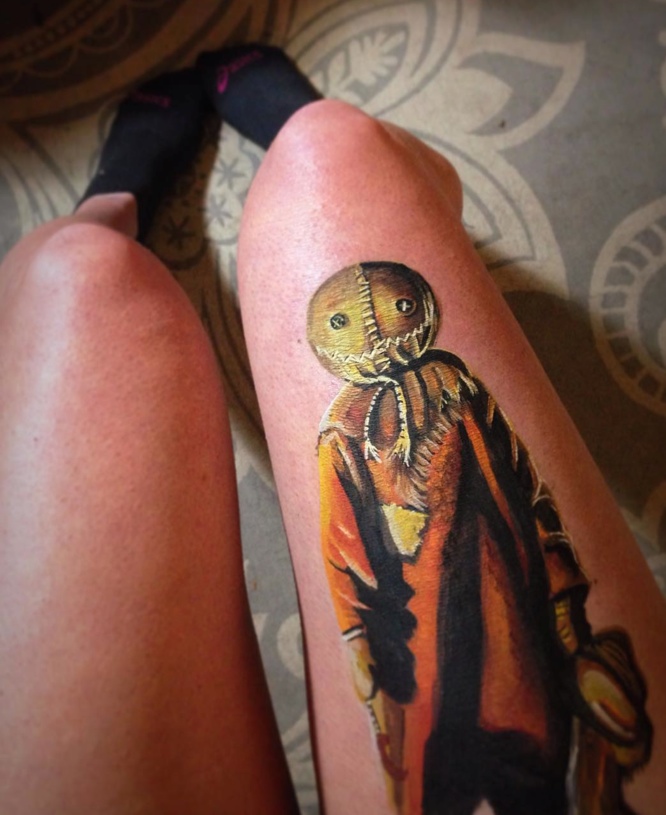 You can check out more of Devon Munster Face & Body Painting on her Instagram Page.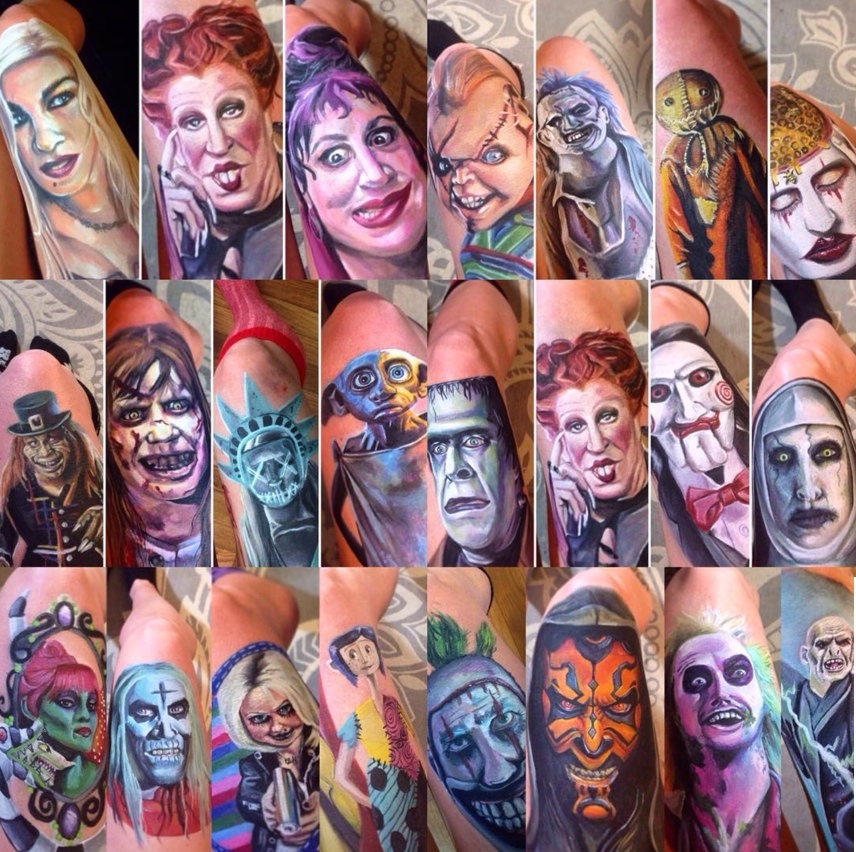 What Horror Movie Character by Devon Munster would you get? Leave a comment below.
Comments
comments