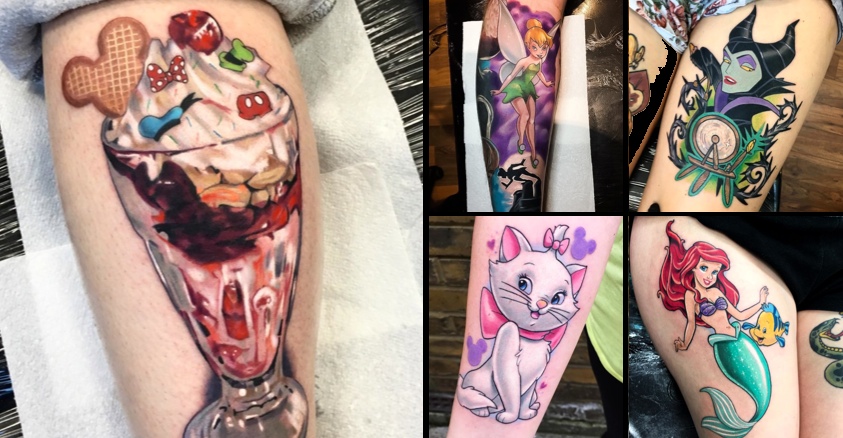 Everyone loves Disney Tattoos! Luckily, Tattoo Artist Jordan Baker has plenty of tattoo clients who love disney too!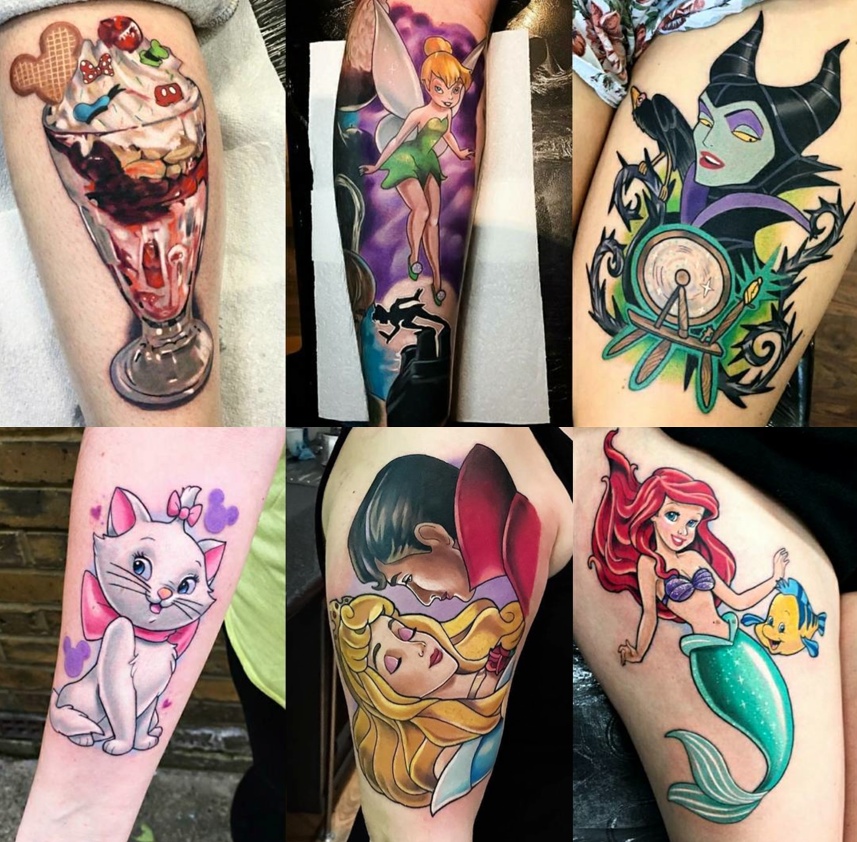 Tattoo Artist Jordan Baker is an extremely talented, and multi-award winning tattoo artist who specializes in new school tattoo art at Skin Kitchen Tattoo Lounge. Jordan Baker is known for incredibly detailed and sharp tattoos.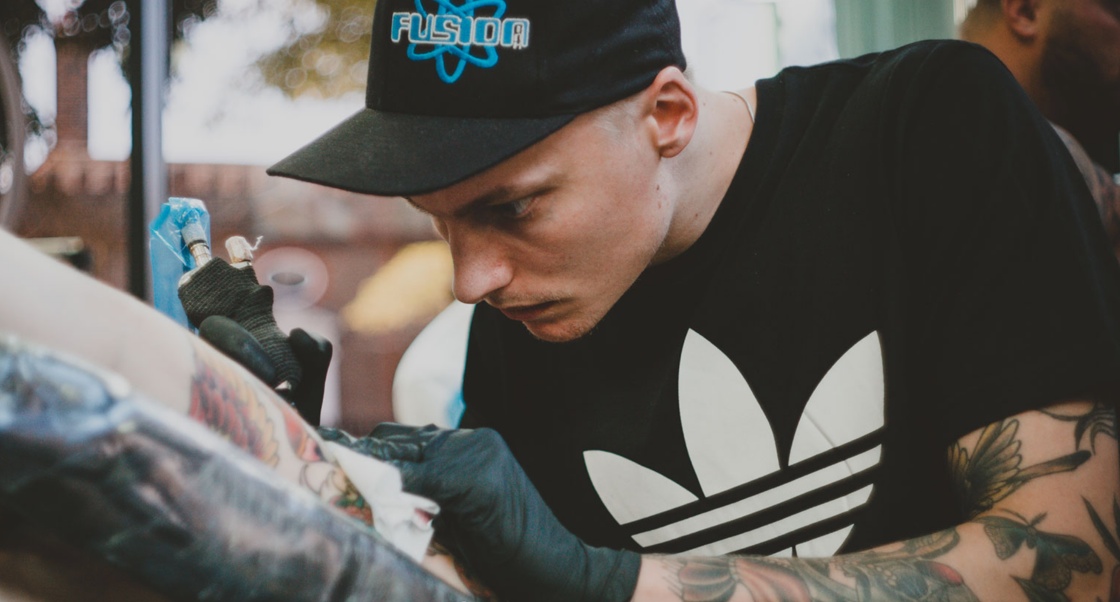 Disney Tattoos are Tattoo Artist Jordan Baker's specialty, and this Disney Ice Cream Sundae Tattoo delivers! You can see the essence of Disney in their most iconic characters: Minnie Mouse, Donald Duck, Goofy and Disney's Official Mascot, Mickey Mouse, all blended into one incredible Disney Sundae Tattoo!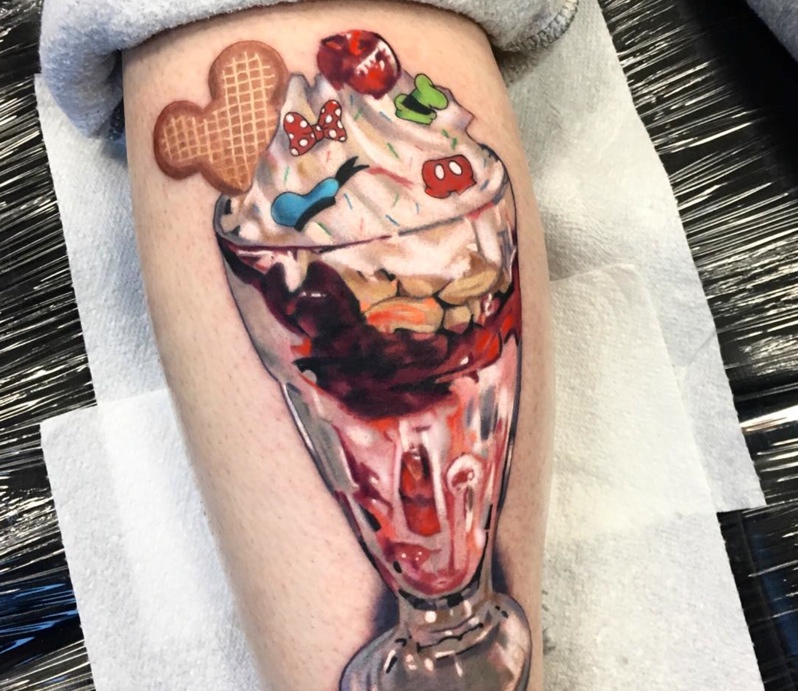 Disney's Tinkerbell, was 1st introduced in the movie, 'Peter Pan', in 1953. Since then, Tinkerbell, a pixie, is known as 'A Symbol of the Magic of Disney', and has become one of Walt Disney's most important icons. Tattoo Artist Jordan Baker's Tinkerbell Tattoo captures how many of us picture Tinkerbell from Peter Pan: blonde, and dressed entirely in green.
It's an urban myth that the original Tinker Bell was modeled after Marilyn Monroe.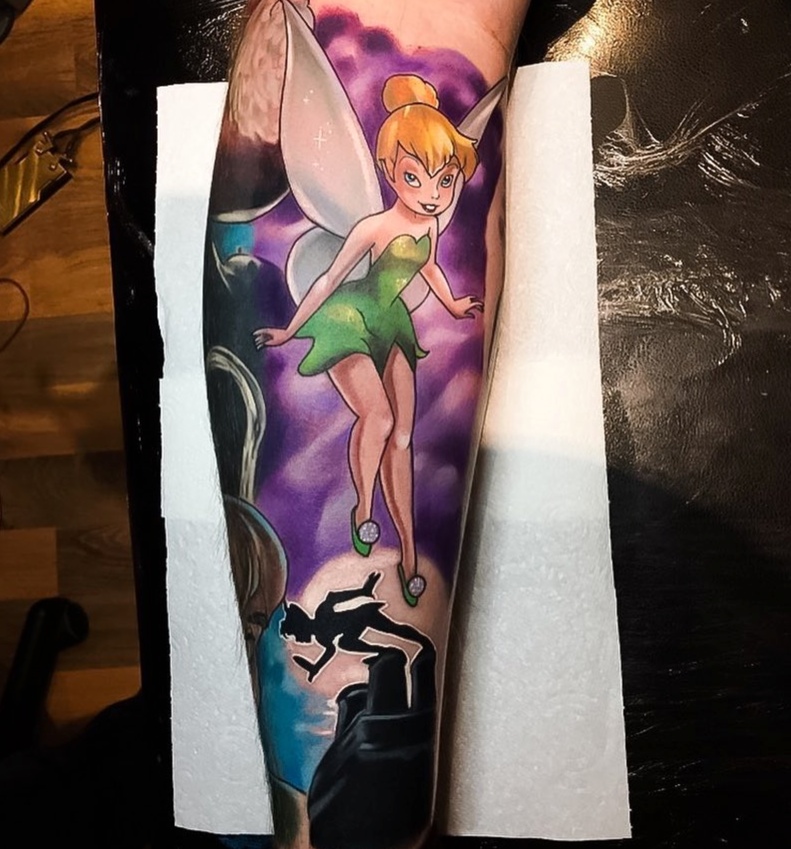 Maleficent is an Evil Fairy, known as "The Mistress of All Evil", first appearing in the Walt Disney's movie, Sleeping Beauty, in 1959. Maleficent was set off, after she wasn't invited to Princess Aurora's christening, and cursed the infant to 'prick her finger on the spindle of a spinning wheel' and to die 'before the sun sets on Princess Aurora's 16th birthday!
Tattooist Jordan Baker's Maleficent Tattoo captures her pure evilness in her face, staring down to the spindle of death!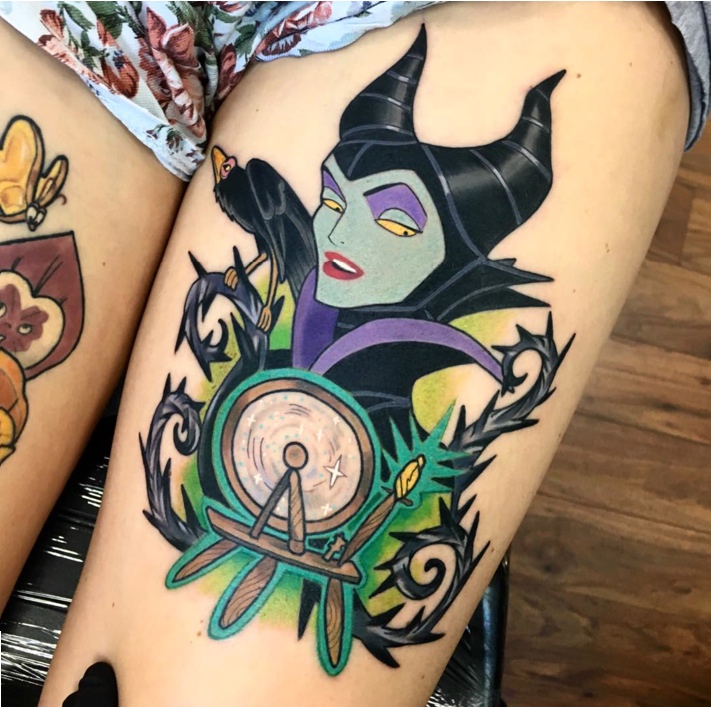 Tattoo Artist Jordan Baker's next Maleficent Tattoo is not only a solid tattoo, it's also a Tattoo Cover-Up!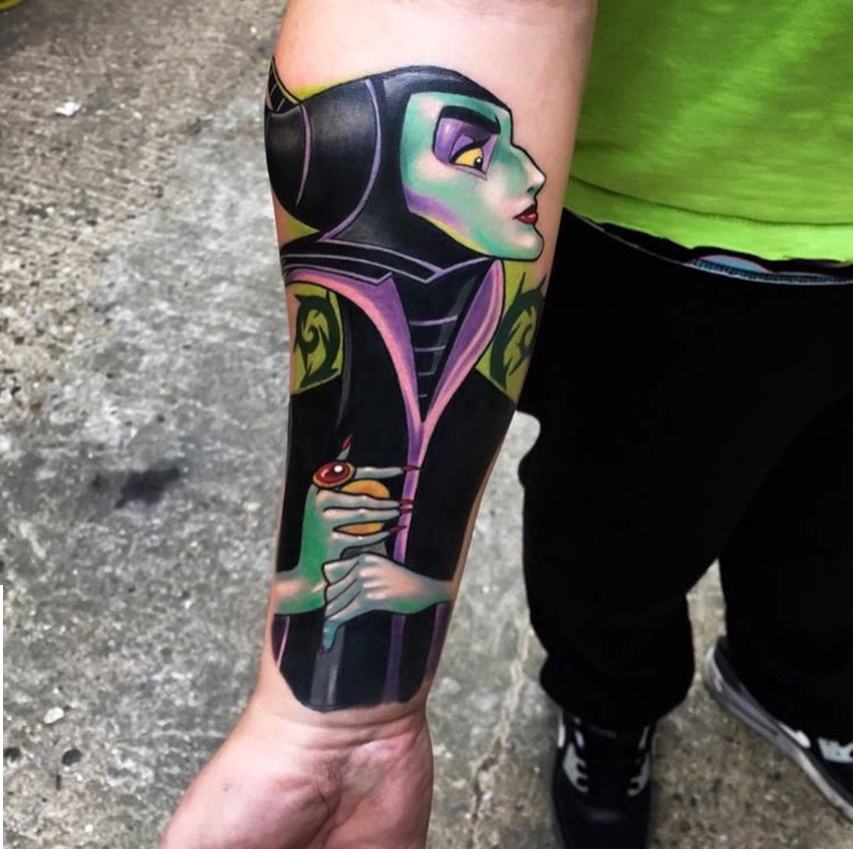 Marie, is a kitten from the Disney Movie, "The Aristocats". She is furry and white, and the middle and only female kitten of Duchess. Marie is quite the little lady, a hopeless romantic and a dreamer, perfectly captured by Jordan Baker in this awesome Disney Marie Tattoo!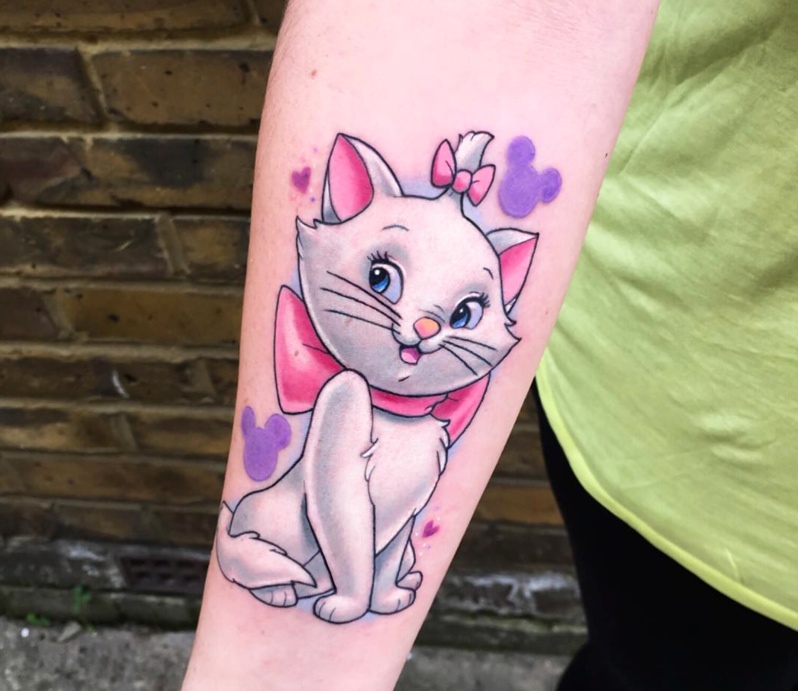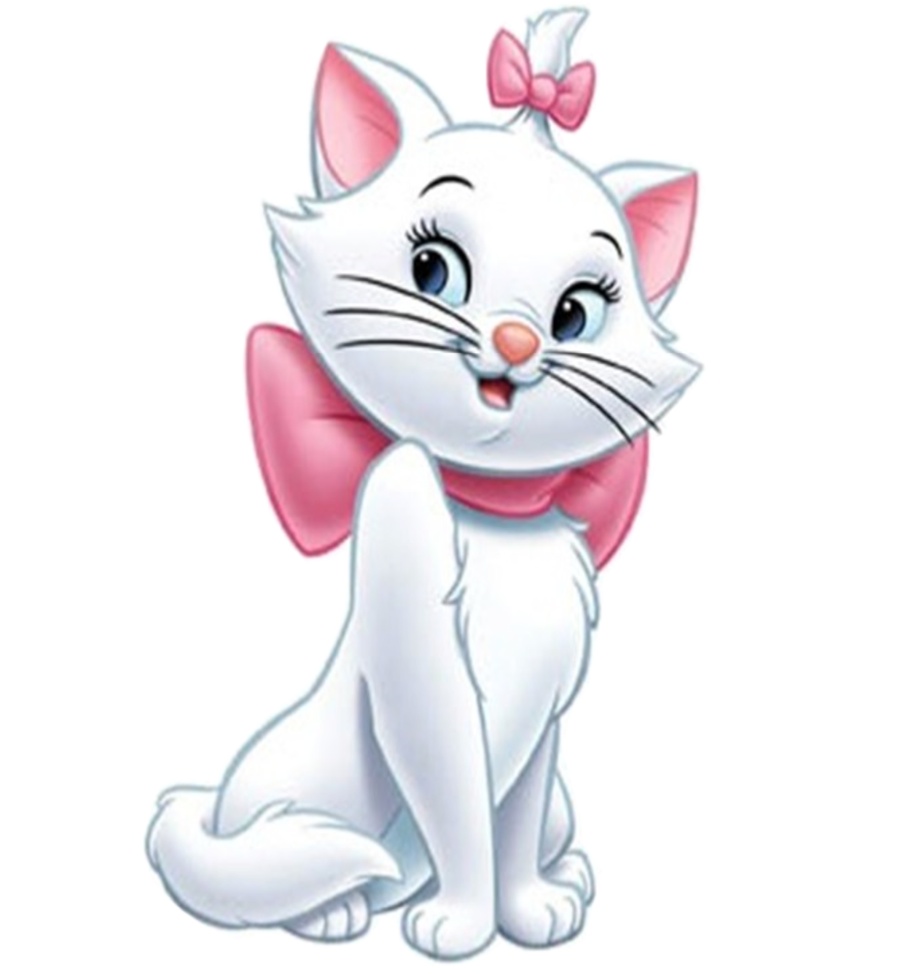 Cinderella, is Walt Disney's most well known Princess, first appearing in the film, Cinderella in 1950. After Cinderella's Father passes away, she is forced to live with her wicked Stepmother and jealous Step Sisters. Cinderella's story is unfortunate, but as we all know, she ends up with Prince Charming, and Jordan Baker's Cinderella Tattoo, captures that exact moment perfectly.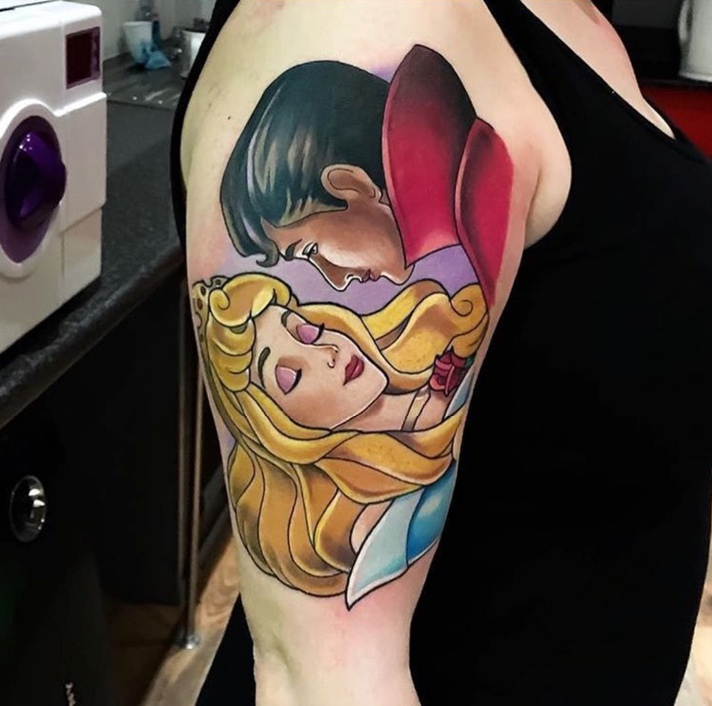 Tattoo Artist Jordan Baker's The Little Mermaid Tattoo is spot on! Disney's, introduced "The Little Mermaid" in 1989, it's the story of a rebellious 16 year old Mermaid named Ariel, who wants to go on land, but her Father, King Triton's forbids her to do so. She breaks his rules, makes a deal with an evil sea witch named Ursula, to become human, for a short time. Ariel falls in love with a Prince, and then all hell breaks loose.
Ariel also has a side kick named Flounder, bright yellow and blue colored tropical fish, pictured together in Jordan Baker's awesome The Little Mermaid Tattoo!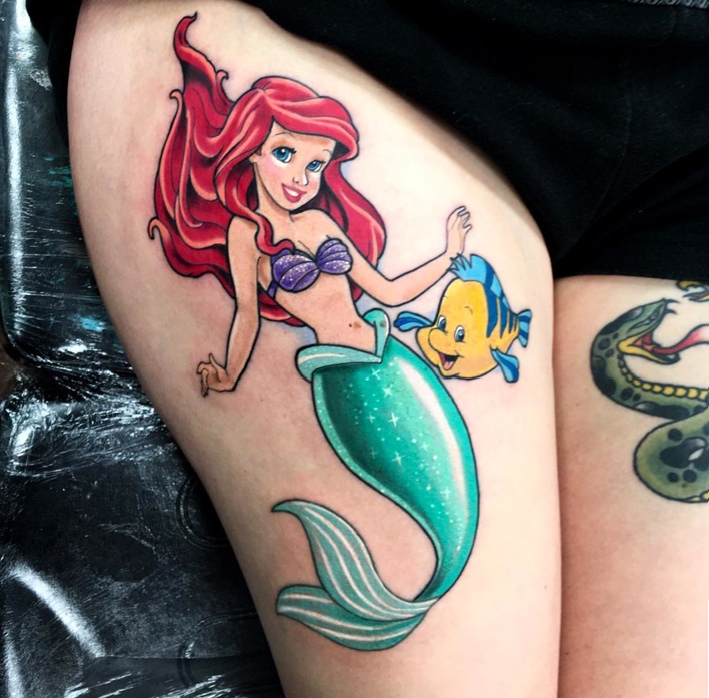 So if you would like to book Jordan to do your new tattoo, contact Skin Kitchen Tattoo Lounge and book a tattoo appointment.
You can check out more of Tattoo Artist Jordan Baker Tattoo Photos and Videos on Tattoo Lovers Shop Facebook Page, here.
Would you ever get a Disney Tattoo by Jordan Baker? Let us know, leave a comment below.
Comments
comments