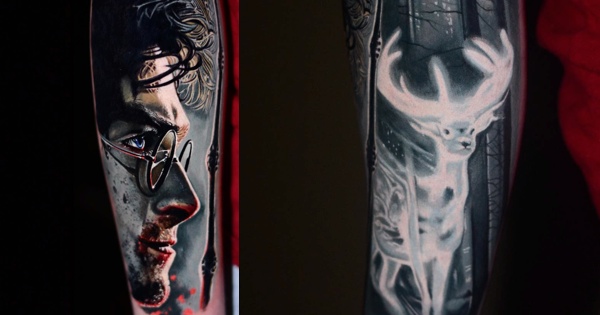 Over 25 Million people have checked out this amazing Harry Potter Tattoo sleeve by Tattoo Artist Ben Ochoa, since we posted on our Tattoo Lovers Facebook Page, with over 45,000 comments, that's insane!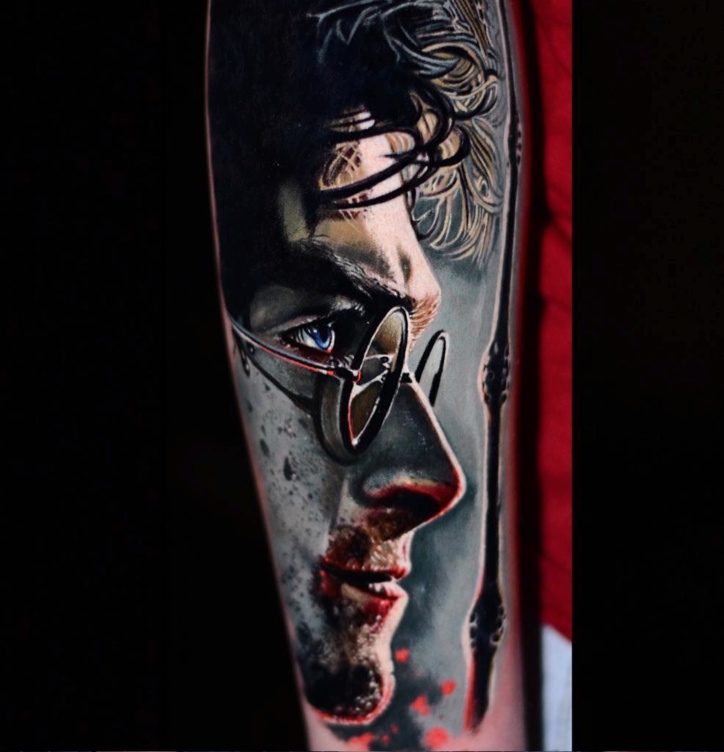 Harry Potter Tattoos are being more and more popular since 2001, when the 1st Film, "Harry Potter and the Philosopher's Stone", was released. This Harry Potter Tattoo Sleeve, features all 8 Films, on one arm, talk about dedication!
Let's start with the Harry Potter Tattoo Portrait (below). Harry is a boy who learns on his 11th Birthday that he is the orphaned son of two powerful wizards and possesses unique magical powers of his own. Harry Potter is summoned from his life as an unwanted child to become a student at Hogwarts, an English boarding school for wizards. There, he meets several friends who become his closest allies and help him discover the truth about his parents' mysterious deaths.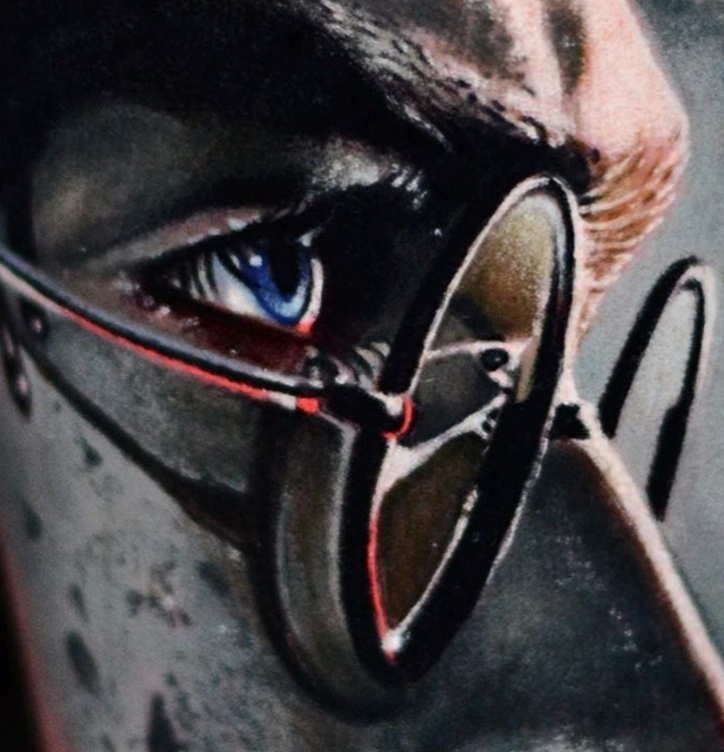 Notice the tattoo workmanship put into this Harry Potter Tattoo, and the details overall, especially, in Harry Potter's Wand is impressive. We can't wait to see what this tattoo looks like healed, in a few years.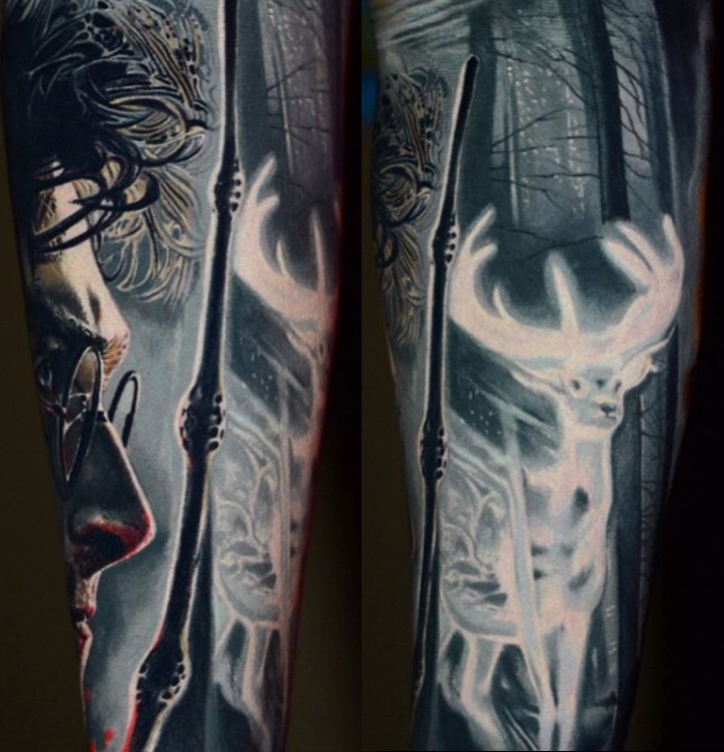 Below, is the Patronus from this Harry Potter Tattoo sleeve. The Patronus Charm, introduced in Harry Potter and the Prisoner of Azkaban, is a defensive spell which produces a silver, animal guardian, used to protect a witch or wizard against Dementors.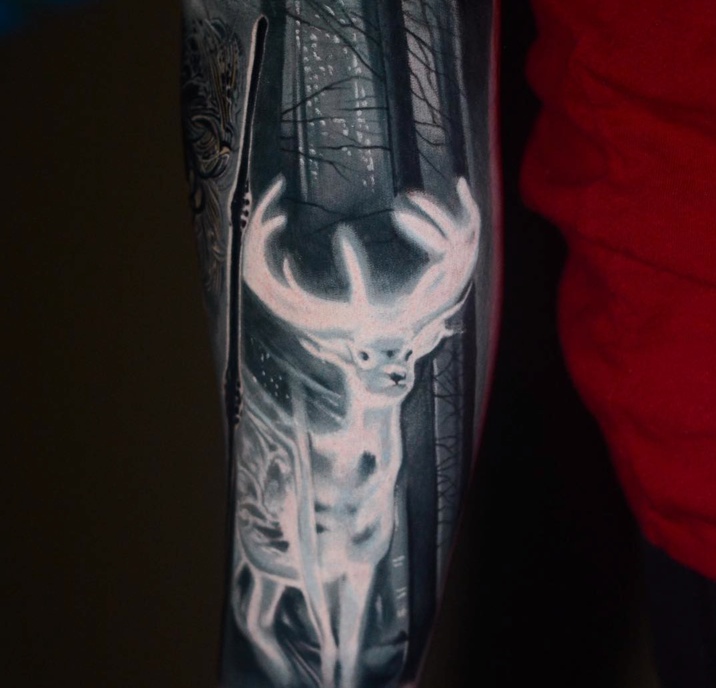 One of the most, well-done Harry Potter Tattoos, we've ever seen. Here is a full tattoo video, of this incredible tattoo ink.
Lord Voldemort, also known as Tom Marvolo Riddle, is the incarnate of evil and sworn enemy of Harry Potter. The Lord Voldemort tattoo catches his evil and mutilated soul, all-in-one.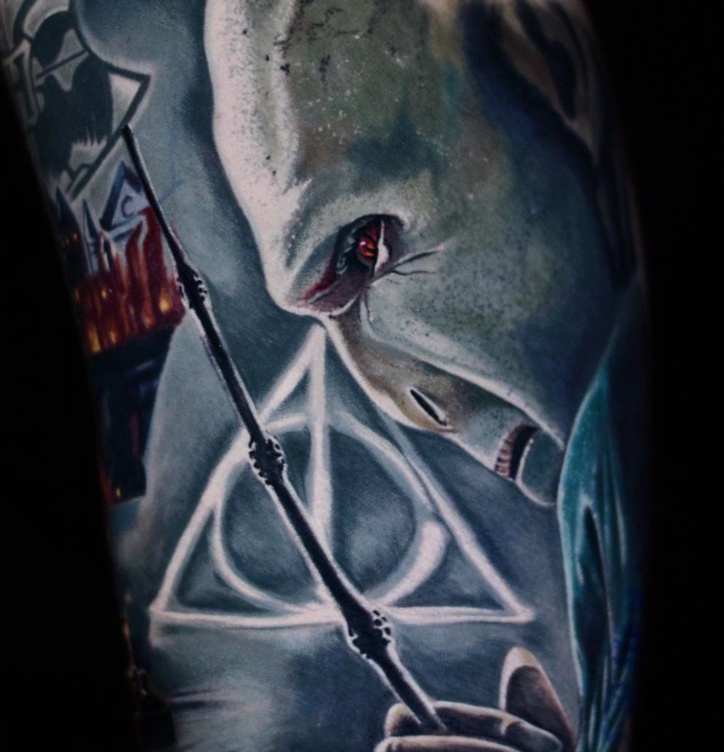 The detail in this Harry Potter Tattoo Sleeve by Ben Ochoa is amazing, with magnificent flow, rich pigments, what a talented tattooist! The total tattooing time in this, is roughly, 55 to 60 hours, many many long tattoo sessions.
You can book a tattoo consultation/appointment with Tattoo Artist Ben Ochoa from Black Anchor Collective in Hesperia, Ca, by emailing him at benochoaart AT gmail.com.
Are you a Harry Potter Fan? What do you think of this Harry Potter Tattoo Sleeve by Ben Ochoa? Leave a comment!
Comments
comments