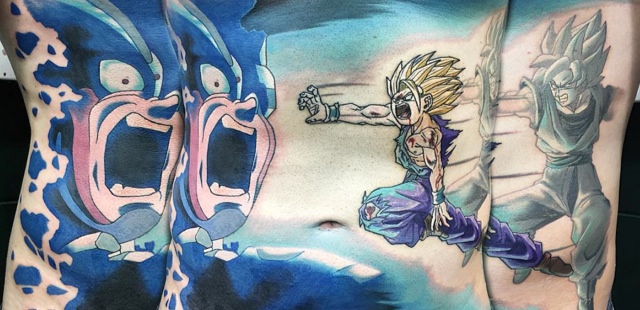 Tattoo Lovers, are you a Fan of Japanese Anime? You don't have to be to appreciate these Epic Dragon Ball Z Tattoos by very talented Tattoo Artists! Dragon Ball Z is one of the most popular anime series ever created and here are the Top Dragon Ball Z Tattoos you will ever see!
Up first, is this Dragon Ball Z Leg Tattoo Sleeve by Black & Grey Tattoo Artist Carlos Fabra, out of Cosafina Tattoo & Piercing Shop in Barcelona, Spain. Tattooer Carlos Fabra's black and grey tattooing is in a class by itself (see more here).
Tattoo Artist Steve Butcher's Dragon Ball Z Stomach Tattoo is EPIC, one of the best scenes from Dragon Ball Z! The Dragon Ball Z Tattoo took Steve Butcher 3 Days, and approximately 17 hours to complete, pretty impressive, (see more here).
Tattoo Artist Gabriel Gonzalez's Goku, Dragon Ball Z Tattoo is unreal. The design is off the hook and the placement couldn't be better! Quality workmanship all the way! You can find Tattoo Artist Gabriel Gonzalez at Sacred Eye Tattoos, in South, Florida.
Tattoo Artist Ry Tattoomiester's Dragon Ball Z Tattoo is another legendary piece, an awesome tribute to Japanese Anime! Ry tattoos in Melbourne, Australia, see more of his photos, on his instagram page, here.
If you have always wanted a Dragon Ball Z Tattoo then Miguel Bohiques from may be the perfect tattoo artist for you. You will have to travel to Spain, and it would be so worth it, (see more here).
You can see more Dragon Ball Z Tattoos on Tattoo Lovers Facebook & Instagram.
Would you ever get a Dragon Ball Z Tattoo? Leave a comment below!
Comments
comments