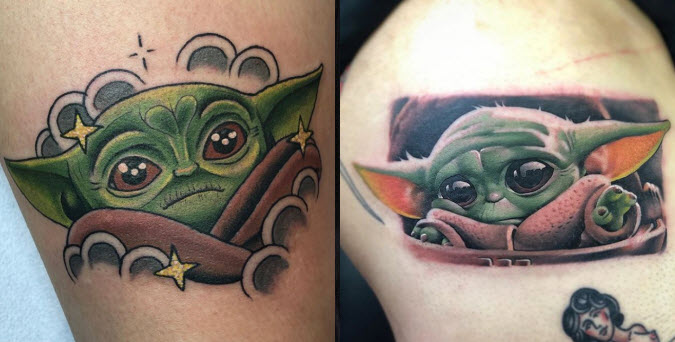 If you haven't started watching Star Wars: The Mandalorian yet what are you waiting for? Even if you aren't a big Star Wars fan you can't help but fall in love with Baby Yoda.
Baby Yoda has taken the world by storm and is the most adorable thing to ever exist. The Baby Yoda meme has taken over social media so you just knew there would be Baby Yoda tattoos coming. Based on what we have seen they are out in full force. Check out just a few of the best ones we have seen so far. We are seeing new ones seemingly every day so this page is sure to grow.

This one was done by @brandoom from Outer Limits tattoo in Long Beach, California

Check out this work by Yesenia Concepcion @yesitattoos in Anaheim, California.

Mother Shelly described this as the cutest tattoo she has ever done. It's hard to argue with that!

This isn't a tattoo but damn it's so cute that we just had to include it. They now have Baby Yoda toys. Just image how many of those are going to sell. The bad part is that you may not be able to get them by Christmas. That is going to piss off a lot of kids…. and adults!

Nicole May W. couldn't help but give herself her own Baby Yoda tattoo. She seems to want to do more Baby Yoda tattoos so if you are in the Calgary area and looking to get one done go follow her at @imacatmeow_tattoos

This cute Baby Yoda work was done by @tombeans of Long Island, New York

If you want to see more great work make sure to follow us on FaceBook @TattooLoversShop and IG @TattooLoversShop
Want to buy some dope new tattoo shirts including our exclusive Alisha Gory shirts? Check out our store HERE
Comments
comments