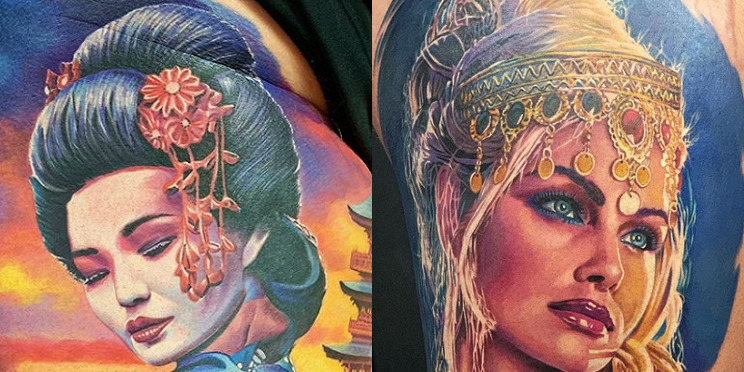 Tattoo Lovers take a look at these Color Masterpieces by Tattoo Artist Nakata Ink! Nakata is from Bulgaria but travels the world showing off his wonderful work. He does a lot of tattoos of famous people and characters, but does very detailed animal work as well. His color work is absolutely amazing as you will see below.
You may have seen recent Tattoos by Tattoo Artist Nakata Ink on our Facebook and Instagram Channels! Nakata Ink came upon our radar, and we're impressed by his tattoo work! You have too check out these Beautiful Color Tattoos by Nakata Ink!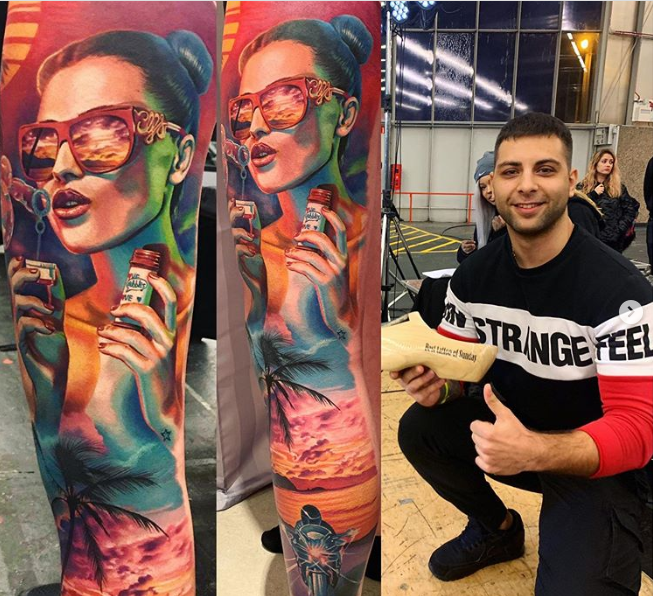 "The leg piece I did at the awesome Venezia Tattoo Convention. Catch 2nd Place in Realistic and 3rd Best of Saturday. Thanks to my boy lima__9, who was sitting 3 days in a row without moving and complaining.  Met so many nice people and great artists congratulations to all the winners  Love Italy!" – Nakata Ink.
*if you cant see the pics check out his IG.

"34 hours tattooing (3 days in a row) at Brussels Tattoo Convention, also 3rd Place Best of Show . Met so many nice people and Congratulations to all the winners in the competitions!  Thanks to my client @marvin.bebber for sitting like a rock so many hours and suffering so much pain! You are a real German Machine. "  –  Tattoo Artist Nakata Ink, 2019.
"1st Place Best Of Colour . 2nd Place Best Of Saturday . 1st Place Best Of Sunday . So happy from the last weekend @ the amazing Amsterdam Tattoo Convention as successful and met a lot of kind people! Thanks to everyone and congrats to all the other winners from the categories! Thanks to my buddy @grudipetrov for sitting 3 days in a row like a Bulgarian Rock! Hope we see us again! " – Nakata Ink, Tattooist.
"The 2 day piece that I did last weekend Tattoo_Convention Wuppertal for my buddy @phl1zzy Won Best Of Show with .
Thanks a lot for the presents that I got to Cheyenne_Tattoo Equipment for the cool Tattoo Machine!" – Nakata Ink, Tattooer.
"3 days tattooing I did in Copenhagen! Thanks a lot to my client for the trust and for the pain that he suffered! I received some awards but I don't except them cause I think that was not fair and the contest was a big joke! People have to understand that when they want to make a nice convention they have to bring good artists which are making awesome tattoos! They have to respect the pain that the clients are suffering to make sure that the artists can do their 100%! When you don't make it fair or you are joking with the good tattoos and the good artists you are losing good clients, artists and the good convention at all! It's never and never ever because of me it's always because of the ART and I would keep fighting for it! Thanks a lot to all the people who supported me and was happy to meet so many kind people! Have a nice evening to everyone!" –
Nakata Ink
, Tattoo Artist.
You can see more Amazing Tattoos at Tattoo Lovers FB and Tattoo Lovers Instagram.
What would you like to Get Tattooed by Tattoo Artist Nakata Ink? Let us know below.
Comments
comments