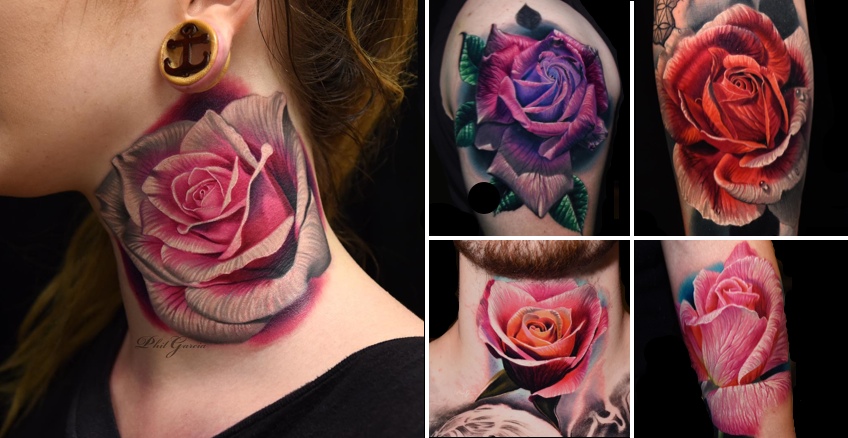 In need of some serious flower power? Check out these color rose tattoos done by none other than Tattoo Artist Phil Garcia!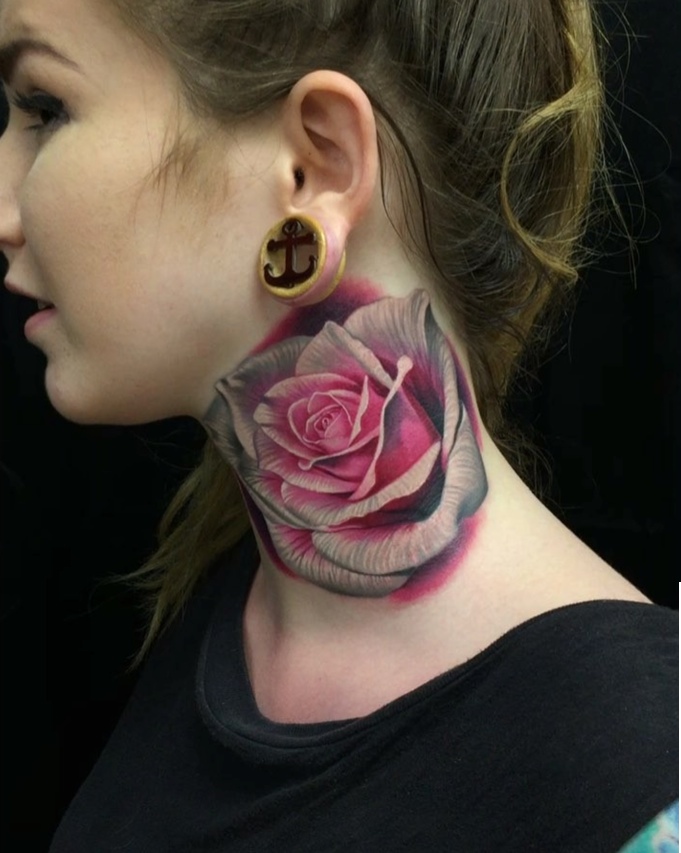 The color rose tattoos are a popular choice among the flower tattoos. Roses can have a lot of meaning from beauty and love to enthusiasm and happiness. There's a rose for any occasion and in the hands of Tattoo Artist Phil Garcia, their true messages are brought to life thru tattoo art.
First color rose tattoo we have is a dynamic pink rose neck tattoo: look how the dark colors make the white and pink really stand out. It's simple in shape but the attention to detail and shading makes this tattoo really pop and make a statement. It takes a lot of discipline and a steady hand to be able to create this piece of art on someone's neck since there are bound to be some movement. With it being such a sensitive area the client also has to show some heavy endurance and will power. Our hats go off to Tattooer Phil Garcia and his clients, for their excellent teamwork.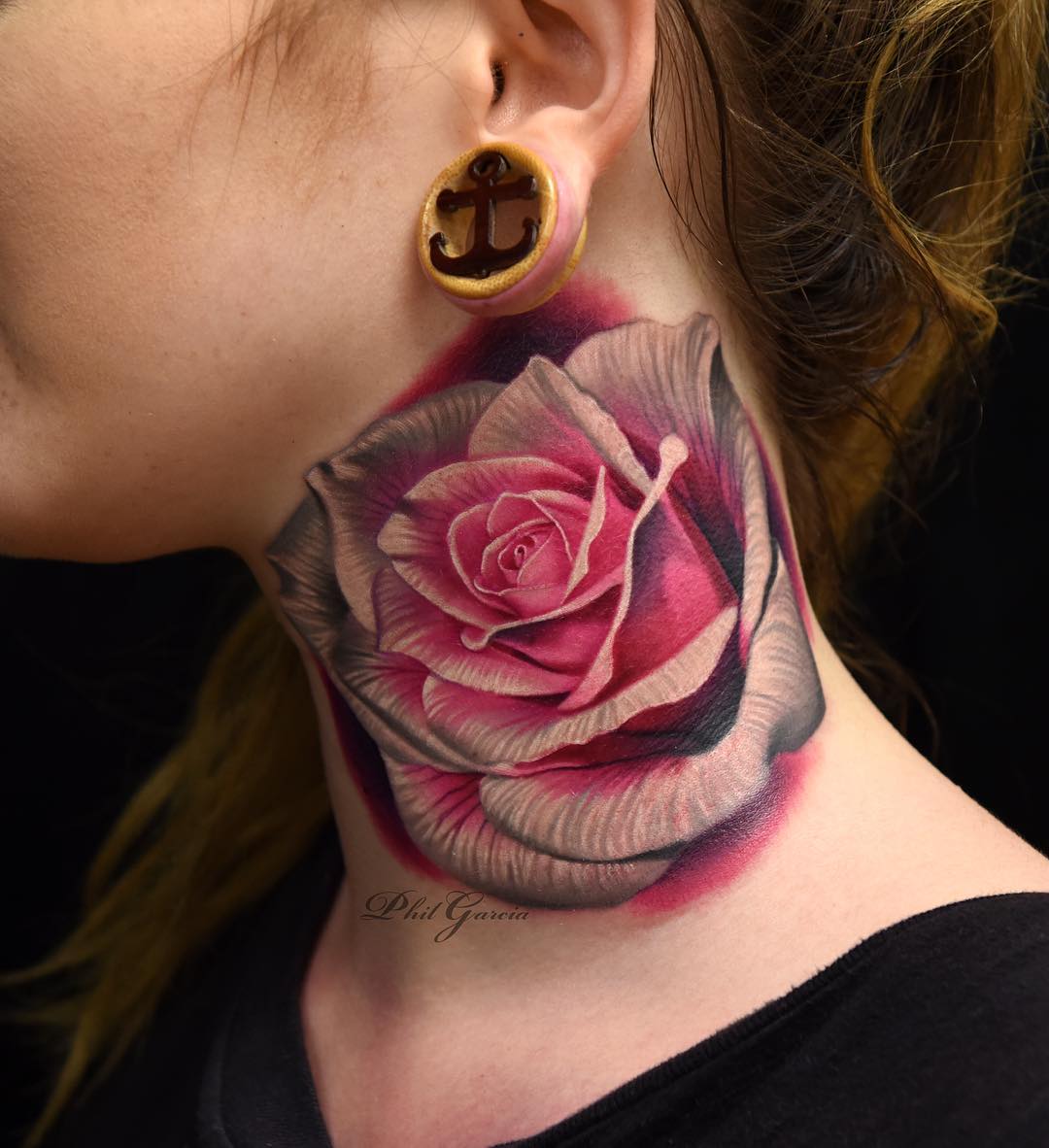 Now this next color rose tattoo is a perfect example of realism with its detailed petals and life-like leaves. Notice how the edges of these petals are gray and almost black which contrast really well with the light luminous center. What we like about this tattoo is how each of the outer petals curl just like a real rose. It gives off a three dimensional effect and makes you believe that there is a real rose on her arm. As you can see in the tattoo video here: as the camera turns it looks as if the rose is going to emerge from her arm.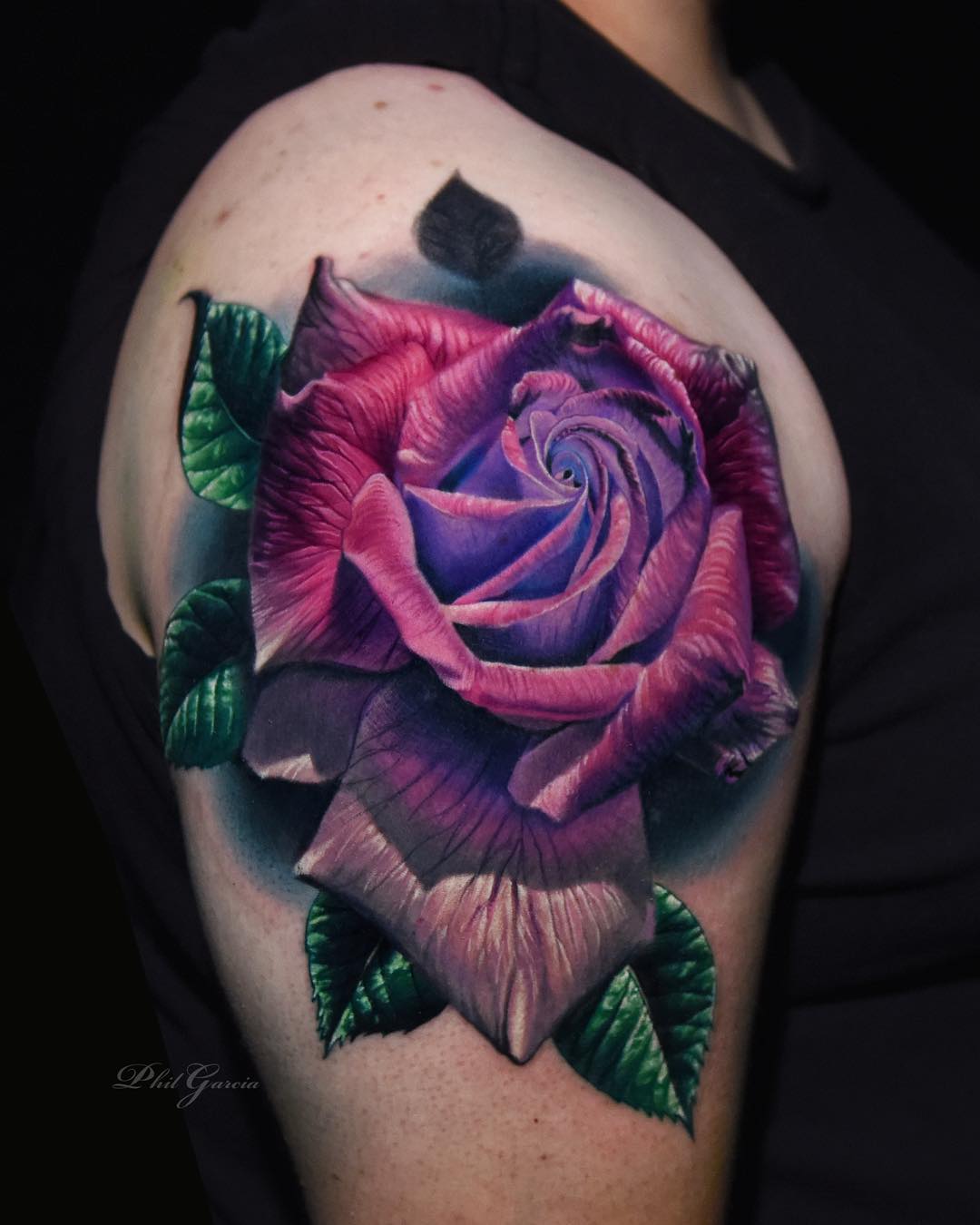 Keeping up with the dark color scheme comes our third color rose tattoo which instead of using a dark border is using light blue. By the looks of this tattoo the sun is rising and is giving this dark rose some much needed light. Some of the outer petals are gray while the ones in the front are more white. This rose can hold a lot of different meanings to the client especially with there being some thorns on the stem. Once again, the petals show off different textures from the soft edges to the more firm center of the petals. This tattoo artist is really paying his respects to nature and captures its beauty in each of these tattoos.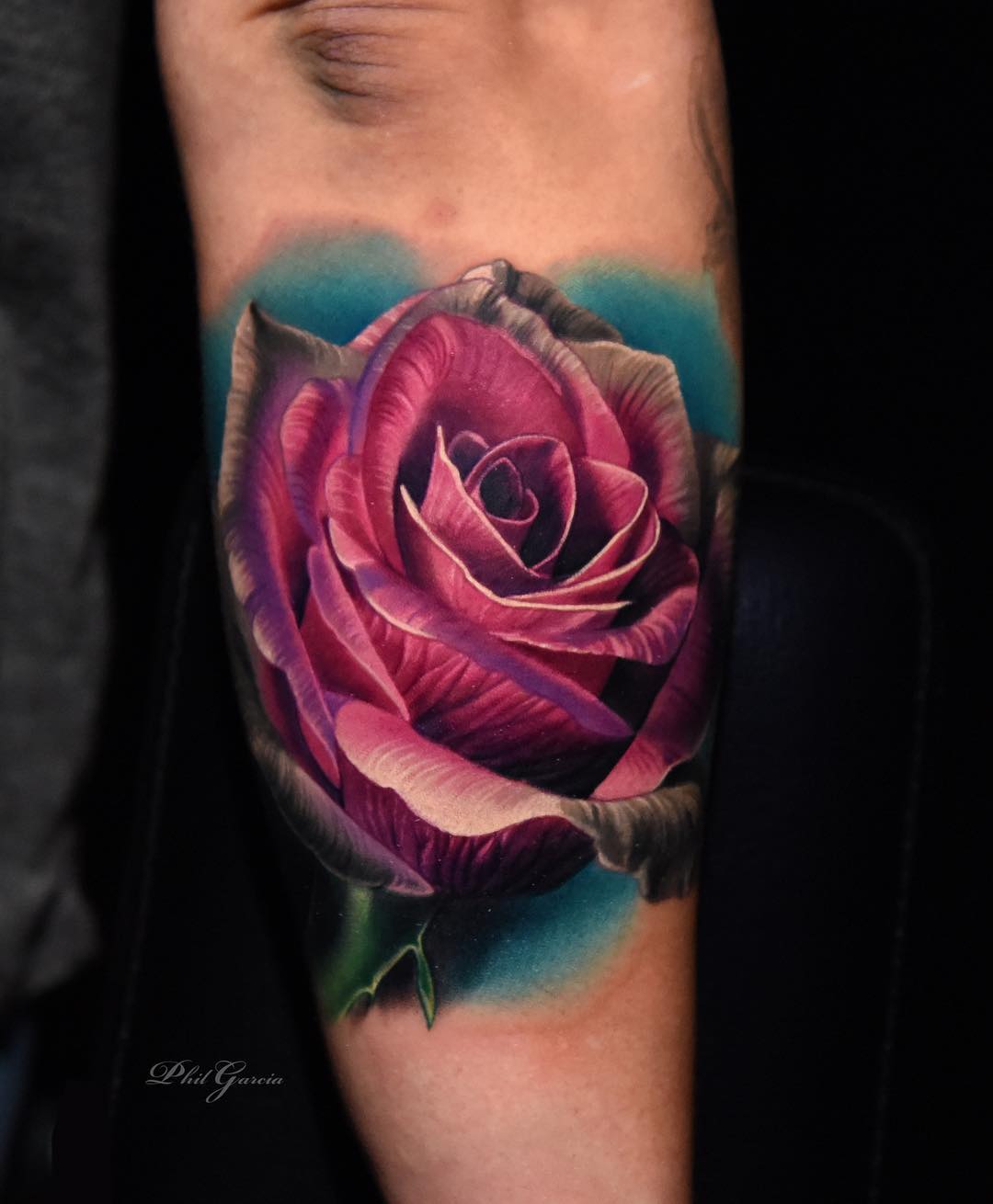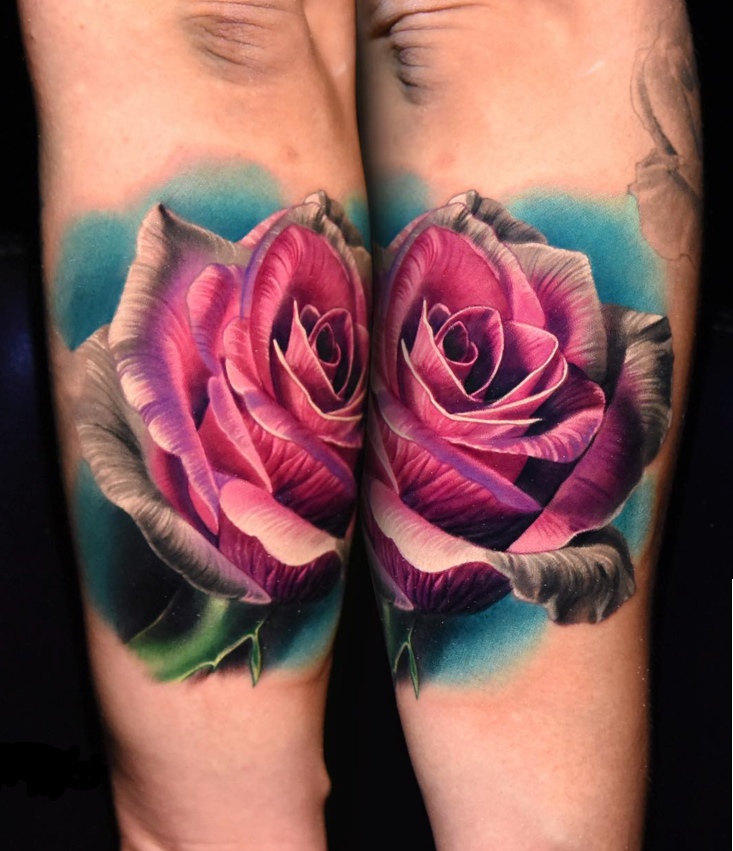 Tattoo Artist Phil Garcia's rose tattoos standout, and he puts just as much time into the details like these water droplets which add a nice natural effect. This tattoo client will surely stand out in a crowd with this beautiful flower on his arm.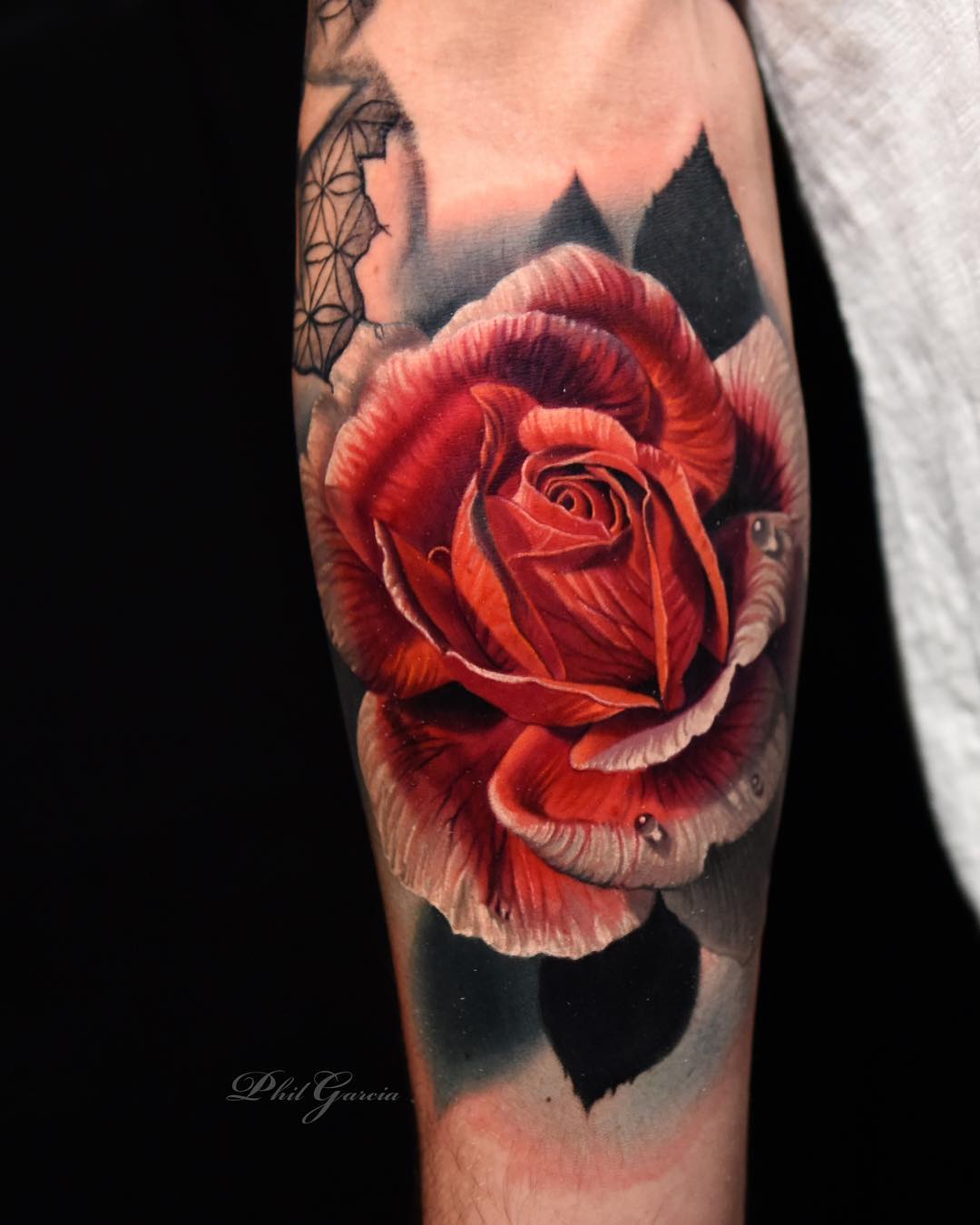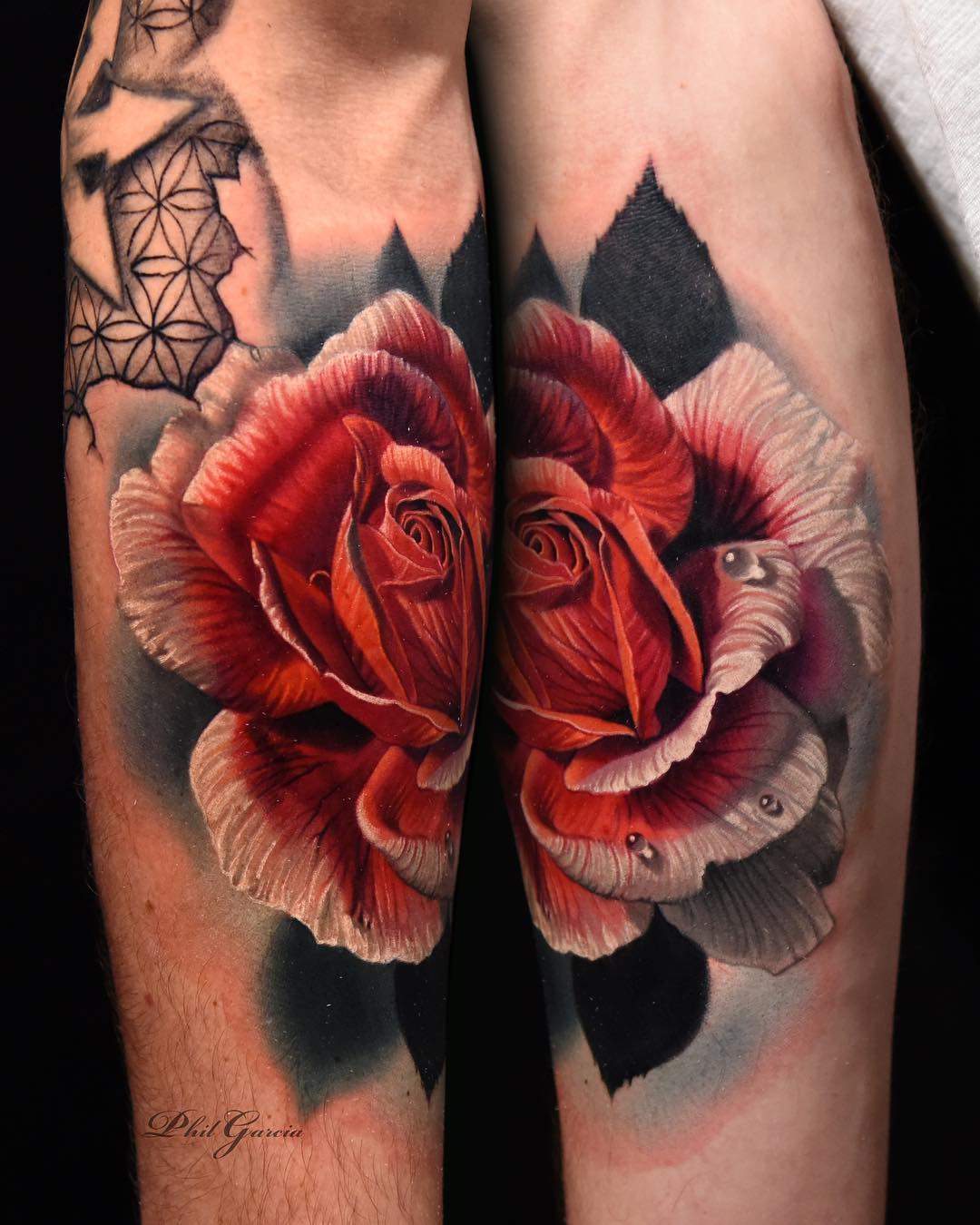 Now this particular tattoo is the definition of cute with its soft pink color and truly embraces the word grace. The separated petals add a nice touch and could mean that the rose is beginning to open up and show its full beauty. Although the beauty in this rose lies within its simplicity, this dark blue background contrasts with the bright pink making the rose more noticeable and be able to shine on its own. You could never get tired of how detail each of these roses are and how much technique is shown in each tattoo.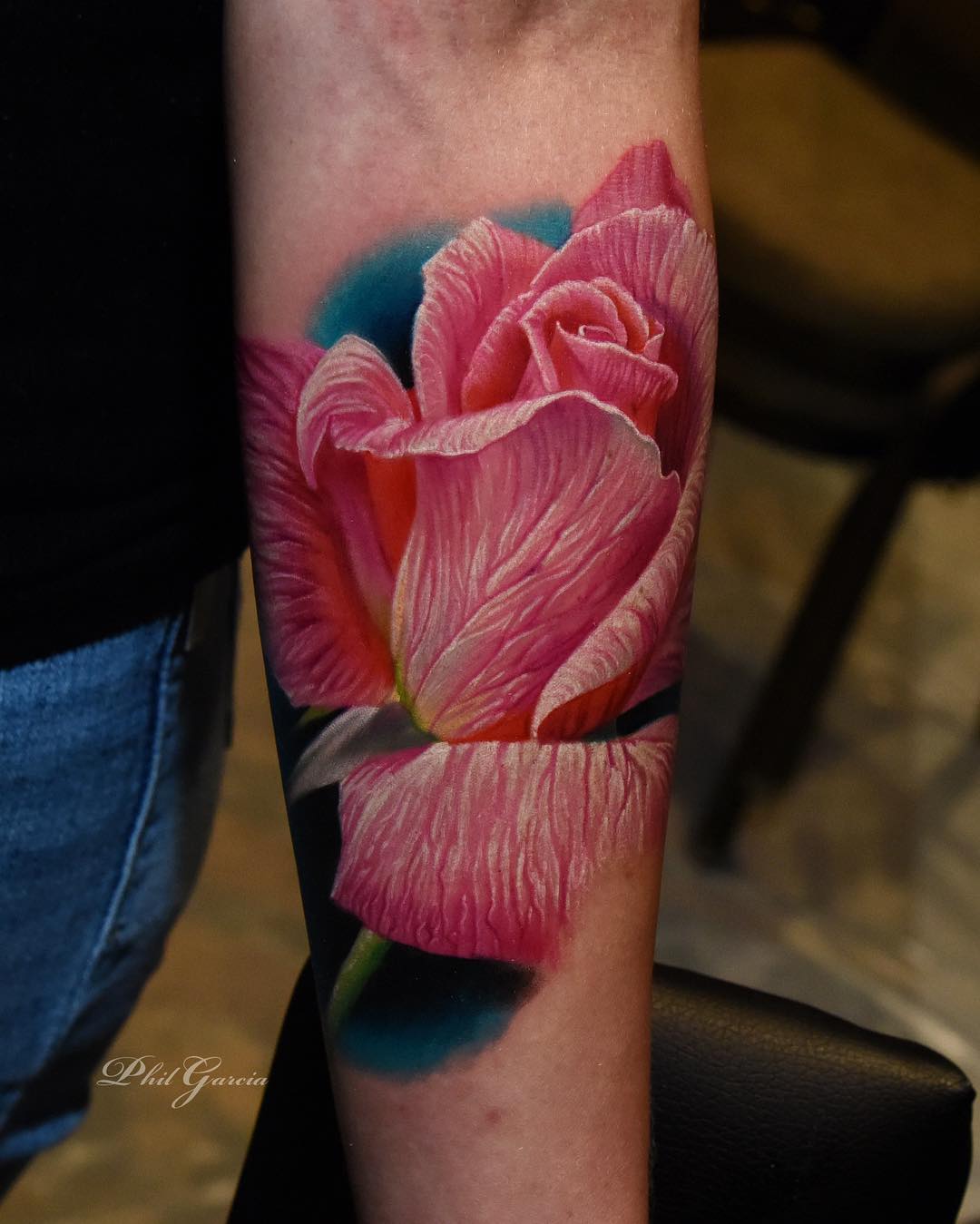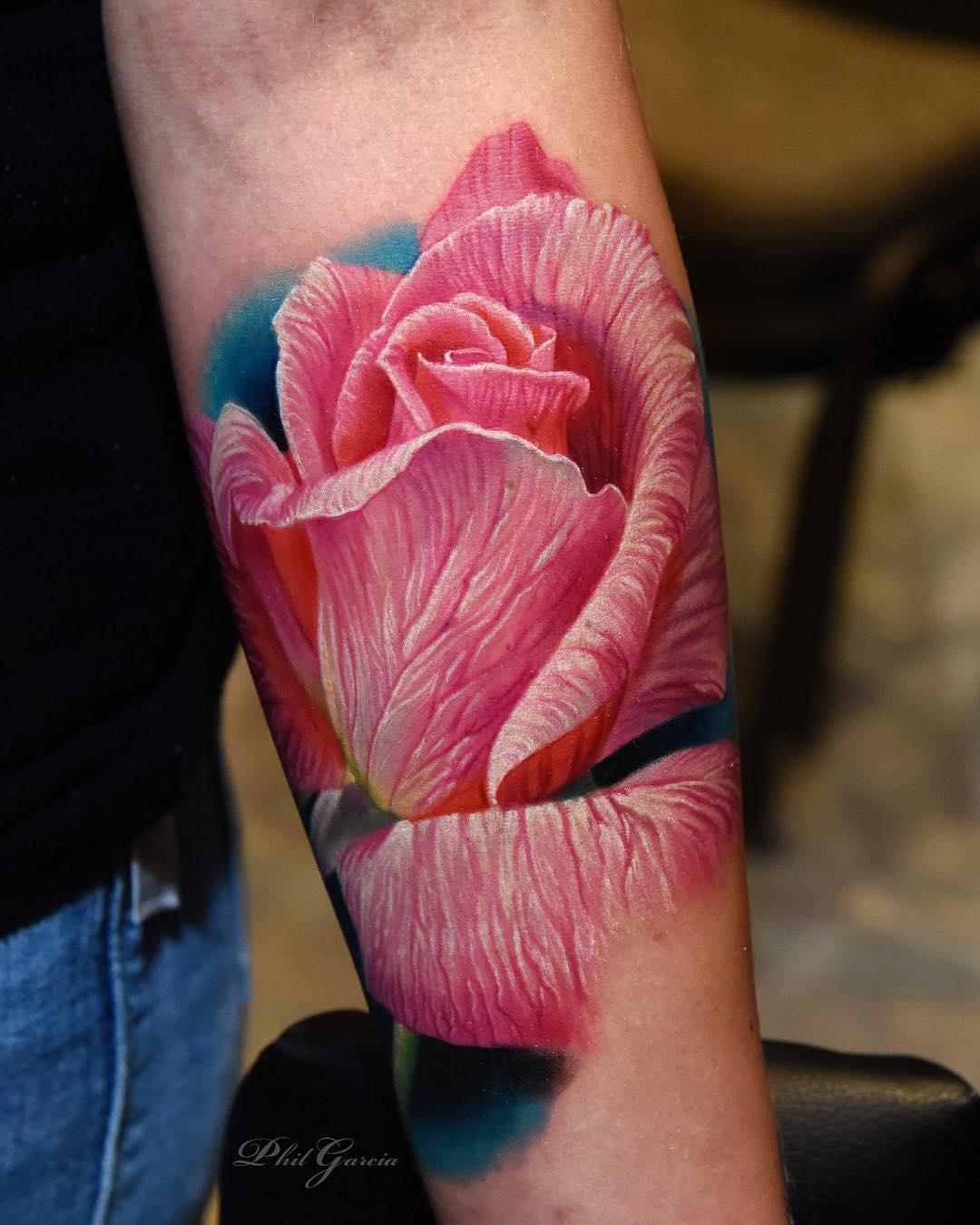 Now this last tattoo, is absolutely stunning with how the petals are going up rather than out. It's almost as if the rose is barely starting to bloom which could mean new beginnings or the start of something new. Notice how the color scheme for this rose is bright with the different shades of pink, white, and orange. The light blue background adds a nice touch to this tattoo as if symbolizing a brand new day. Did I forget to mention the fact that it's in the center of this man's neck? Now that takes some serious pain tolerance with such a sensitive space. Can you imagine standing still for that long with someone tattooing your neck? I certainly wouldn't be able to do that. His staying still did pay off in the end with such a gorgeous rose being the end result.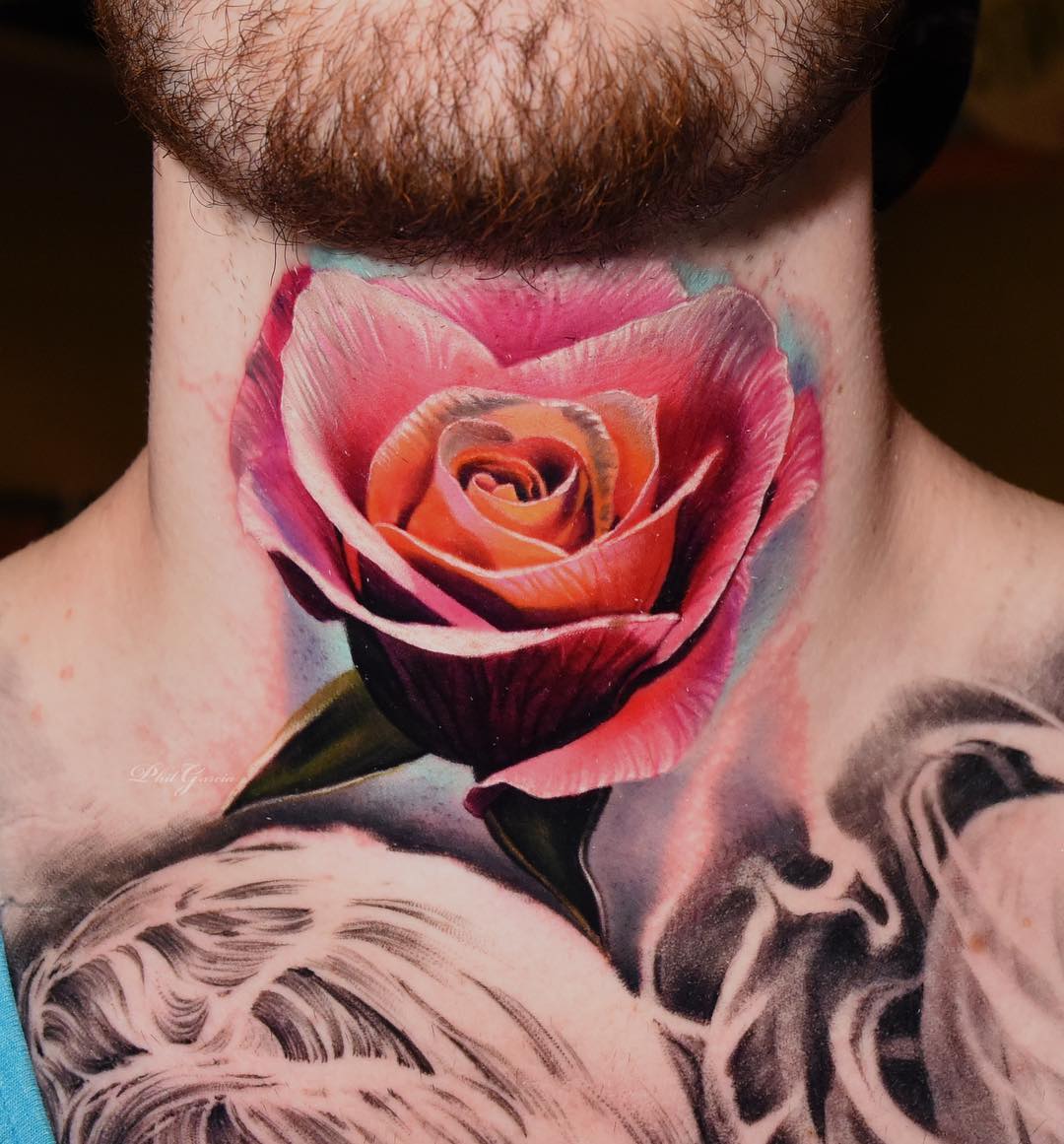 Can you believe that one man has created these true symbols of nature's beauty? Tattooist Phil Garcia sees nature in a different way and strives to show it through his tattoos! 
You can see more Tattoos by Tattoo Artist Phil Garcia on Tattoo Lovers Shop Instagram and Facebook Page.
Comments
comments