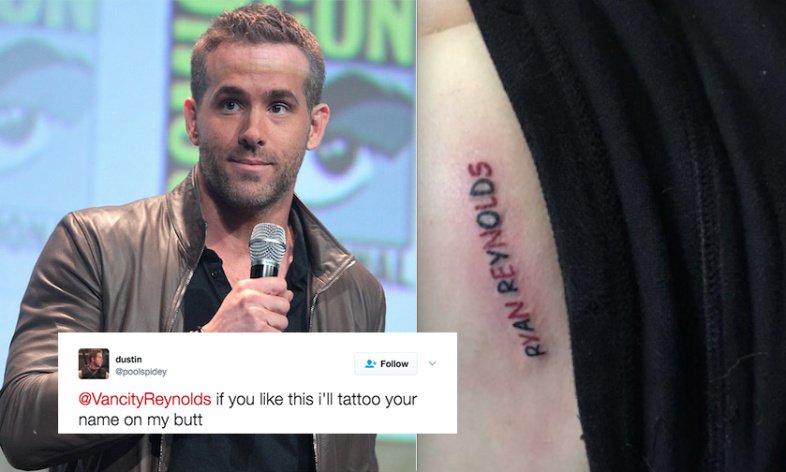 Deadpool Butt Tattoo
Getting tattoos of famous people's faces, names and quotes is nothing new. Getting a famous comic book character name tattooed on your butt when you are a guy means you are a huge fan. We are not here to judge anyone's fandom, we just think guy butt tattoos are funny. Anyways that is exactly what one Deadpool fan did. He got the Deadpool character tattooed on his butt. Reynolds was out doing press for Deadpool 2 and the interviewer is the one that got the tattoo. He let Reynolds know about the butt tattoo and asked him if he wanted to see it. Like any normal human being Reynolds said yes and his reaction was captured in the interview below.
Ryan Reynolds Butt Tattoo
This wasn't the first Deadpool fan to get a Ryan Reynolds butt tattoo. A few years ago a teenage fan tweeted that if Reynolds liked his tweets he would get his name tattooed on his butt. Of course Reynolds did and the fan went through with it. Both are kind of strange but at least this one has a good story to go with it. The fan says he has no regrets about getting the tattoo and that is all that matters right?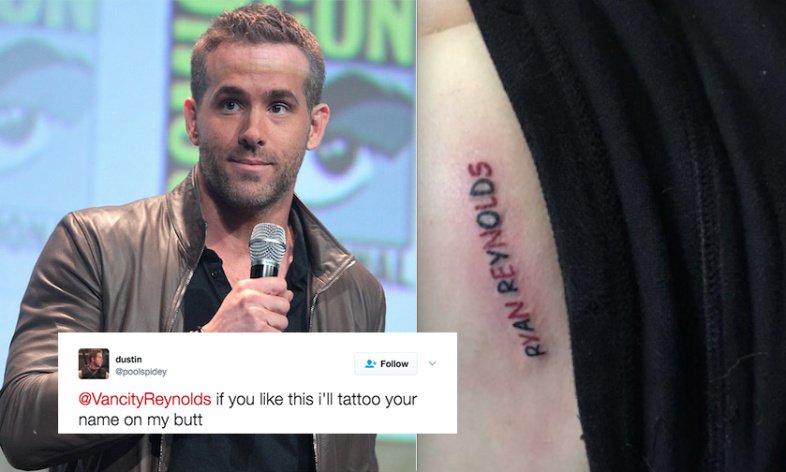 Reynolds reacted to this fan's tattoo via Twitter and the response was hilarious!
Oh god. Oh. Dear. God. What have you done!? Thankfully, all the letters in my name are silent. https://t.co/Tf1E6BfBcC

— Ryan Reynolds (@VancityReynolds) April 20, 2017
Would you ever get a famous person's name tattooed on your butt? What if it meant you got the chance to meet them? Do you have any famous people tattooed on you? If so show them to us in the comments and we will put them on our page.
Want to stay on top of all new tattoo trends and news. Follow us at Tattoo Lovers FB and Tattoo Lovers Instagram.
Comments
comments