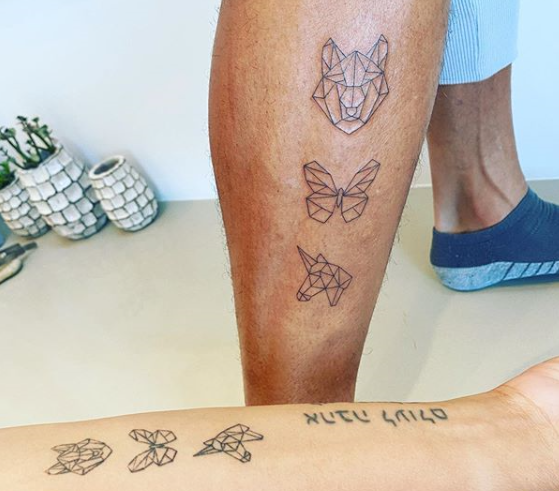 Ayesha and Steph Curry Matching Tattoos
Ayesha Curry posted some fresh ink that her husband Steph Curry just got. If you don't know who they are then you clearly don't watch basketball. Just know that they love tattoos and you love tattoos and that's all that matters. Apparently Ayesha has had her 3 tattoos done for a while, but Steph just decided to get matching ones. Unlike most celebrities she actually said what they mean. The tattoos represent each of the couple's 3 children. As she posted on Instagram "these are our babies signs we have for them) . Each has a deeper meaning and representation to us. Canon will always be our young wolf. Ryan our butterfly (this one makes me cry with joy just thinking about it) and Riley our horse (free spirited , which we turned into a unicorn because she's our magical first born)." This isn't the Curry's first set of matching tattoos. They each have a bible verse and the >< symbol tattooed on them. At the rate they are going this likely will not be their last.

The work was done by celebrity tattoo artist @Winterstone who has clearly been busy. As we posted yesterday he recently did Miley Cyrus's new tattoos as well.
Do you have any matching tattoos if so show them to us on our FaceBook page HERE
Thinking about getting a matching tattoo with one of your friends or love ones but not sure what to get. Check out over 50 Matching Tattoo Ideas that were submitted by the Tattoo Lovers community.
Constatnly looking for new tattoo ideas? Make sure to follow us on FaceBook and Instagram @TattooLoversShop
Speaking of matching. If you and that special someone in your life want matching Tattoo Lovers shirts we are running a sale right now. Use the code buy1get30 and you will get 30% off your second shirt. That is even better than our Black Friday deal!
Comments
comments