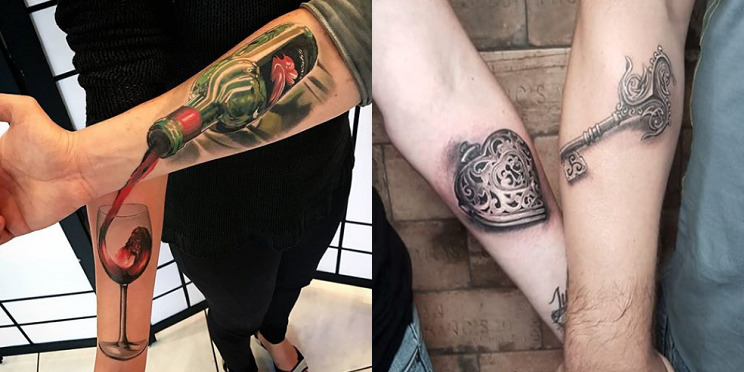 Tattoos are usual an individual expression, but if you have special people in your life that also love ink matching tattoos can really make a statement that no individual tattoo can. They represent a bond that you likely don't have with anyone else in the world. They don't just have to be couples tattoos for someone you are romantically involved with. You can get one with your mom or dad, brother or sister, and your best friend. Some people get the same exact tattoo while others get matching tattoos that require them to be put together to derive the true meaning. The truly great ones make a statement on their own, but when they are put together it's incredible. If you are thinking about getting your own matching tattoo but aren't quite sure what to get check out our 50+ Best Matching Tattoo Ideas where we listed some of the best submitted to the Tattoo Lovers community. The work listed below are a few that stood out to us. Check them out and let us know which one is your favorite.
Matching Tattoos We Love
Are you a couple that loves to drink wine and tattoos? This is the perfect couples tattoo for you. When done right matching tattoos can be lots of fun. Check out this awesome matching tattoo from Klebyz Soares.
Does your spouse hold the key to your heart? This couple went the extra mile to show the world how much they love each other. This wonderful couples tattoo was done by @parabolika_tattoo

Matching Mother/Daughter Tattoos @johnny_tattz

What makes these matching prayer hands tattoos so great is the amount of detail they have considering how small they are. Reuster came through with some amazing work as always.
Matching rose tattoos @angry_yur

Want to stay on top of all the best tattoo ideas and trends from around the world? Follow us on FaceBook @tattooloversshop and IG @tattooloversshop
Looking for some holiday gifts for the Tattoo Lovers in your life? Check out the Tattoo Lovers Store now.
Comments
comments