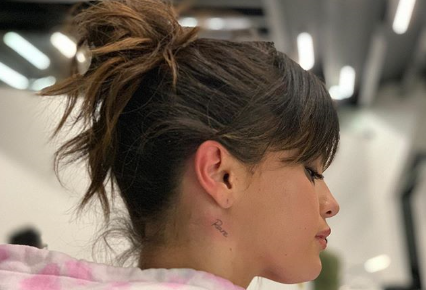 Selena Gomez Neck Tattoo
Selena Gomez showed off a brand new neck tattoo on her IG (@selenagomez) last night. She got the work at the Famous Bang Bang Tattoo studio (@bangbangnyc) in New York City. Selena give a hug to Keith "Bang Bang" McCurdy at the end of the video she posted. According to this E! News interview he did the work, although they refer to him as Keith Scott. Bang Bang is known for his tattoos on famous people including Rihanna, Kylie Jenner, Justin Bieber, LeBron James, Katy Perry and many more. The tattoo itself is the word "Rare" under behind her jaw line and under her right ear. Rare refers to her new album that she released last week and the tattoo is in the same font she used for her album cover. The tattoo is pretty small but according to Bang Bang there was a good reason behind that "I think she always had her neck in mind so we tried a few different spots but then decided on her neck right under her jaw. After we placed it there she instantly said she 'loved it.' She felt it would be an easy thing to cover if she ever did an acting job, it would only need a little spot of makeup to cover and that was her only concern with putting it in a prominent place." Gomez is no stranger to tattoos or even neck tattoos as she has one on the back of her neck and another one on her left side.
This tattoo brings up an interesting thought. What if more artists start getting tattoos to celebrate their album releases? It will drive a ton of exposure not only to them but the album as well. We hope this becomes a thing because the more tattoos the better!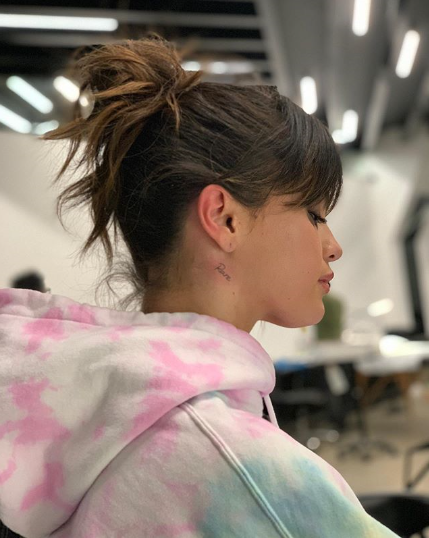 Want to see more celebrity tattoos? Check out Jusin Beiber's new tattoos and Miley Cyrus new divorce tattoo now. Stay on top of the latest tattoo news make by following us on FaceBook @TattooLoversShop and IG @TattooLoversShop
Comments
comments