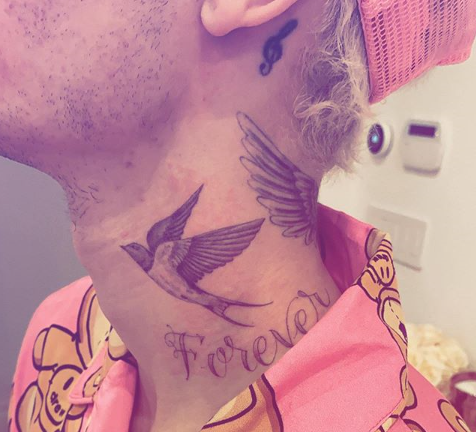 Justin Bieber posted his two new neck tattoos on Instagram today. That tattoo is a bird, appears to be a swallow, with the word "Forever" in cursive below it. The caption says Forever Thanks @_dr_woo_ which of course is the world famous Doctor Woo. Woo's massive appeal will only continue to grow each time Justin posts new work done by him. Bieber did not provide any context to what the tattoo meant. What do you think it could possibly mean? It can't possibly mean "swallow forever' can it? That would be very bizarre, but I doubt we find out anyways. Neck tattoos seem to be growing in popularity. Have you thought about getting one?
Doctor Woo also does Hailey Beiber's tattoos as well. She got a new neck tattoo herself a couple of months ago.

The more celebrities that get neck tattoos will only make them more and more popular. What would you get if you got one? Let us know in the comments.
Want to buy some tattoo shirts including shirts form our military collection? Check out our store
Tattoo Lovers Shop
Comments
comments