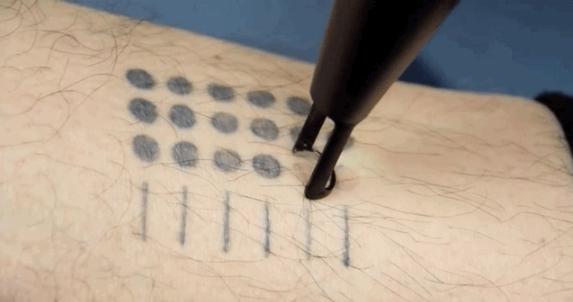 Easily Erasable Tattoos Are Coming
There is a new technology startup, Bambu Global, that is focused on disrupting the tattoo industry by offering easily erasable tattoos they are calling Inque. They have created a new way of delivering the ink to the skin that is not only easy to erase, but also supposedly healthier as it doesn't penetrate the blood stream. Removing the tattoo would only require one session. Their removal process is also better for your skin than the intense laser process used now. It will be very interesting to see if they can pull this off while maintaining the quality in big detailed colorful tattoos. That would seem to be what makes or breaks this idea. With all that being said maybe those people getting big detailed tattoos aren't their target market. All of this brings up a funny scenario for the future. What if you are going to get a tattoo of your spouse's name but choose to get an easily erasable one and they find out? With divorce rates being so high it wouldn't be such a bad idea but good luck explaining that to your spouse.
Will people get erasable tattoos?
Without seeing one in person there is no telling if the quality is the same of a traditional tattoo. That being said if this process and ink is equivalent to what is used now this could be an interesting evolution to the industry. As of right now tattoos are considered mostly permanent. Yes they can be removed but it is very costly, harmful and time consuming. The company is banking on capturing the people that may be on the fence or scared off about getting tattoos because of the permanent aspect of them. Roughly 10% of people have gotten a tattoo removed, 5% have covered one up and upwards of 25% of people regret one they have. If Inque captures even a small bit of those people they will make a big impact on the market. They said they have already tattooed over 3000 volunteers and plan on being available later this year. They are opening high end "premium body art experience" shops. It seems like it will only be available in very big US cities at first. Would you choose to get an easily erasable tattoo if it was an option? Check out this video that details how it's done. Needless to say it's pretty interesting.
Comments
comments